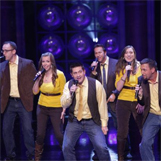 Groove For Thought
Vocal Ensemble
Traveling From
Washington
Infectious grooves, stunning arrangements, and electrifying solos are just some of the phrases used to describe Seattle based vocal group Groove For Thought. Since 1998, GFT has brought their unique brand of jazz and R&B infused tunes to festival, concert, school, and nightclub audiences throughout the United States and abroad.

The seven members of GFT create their own sound while drawing on influences as diverse as Earth, Wind, & Fire and The Count Basie Orchestra. Groove For Thought's self titled debut CD has been released to rave reviews and has received radio airplay from coast to coast.

In 2005 Groove For Thought won the National Harmony Sweepstakes Championship, the premier acappella competition in the United States and in 2006 they were awarded the Contemporary Acappella Recording Award for Best Jazz Song. Groove For Thought has performed and presented workshops at the 2007 National American Choral Directors Convention in Miami, Florida, the 2008 Polyfolia World Choral Music Symposium in St. Lo, France, and the 2009 Europa Cantat Festival in Uterecht, Netherlands, and Mittelrhein Musik Momente in Boppard and Rockenhausen, Germany. Recently, Groove For Thought appeared as a featured guest on the BBC 3 Radio program The Choir with Aled Jones.