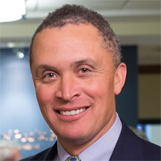 Harold Ford Jr.
Author, More Davids Than Goliaths
X
Program Descriptions
On the Pulse of Washington
The Road Ahead: How the Obama Administration & Congress can Achieve Progress for America
Harold Ford, Jr. served Tennessee in the United States Congress for 10 years. As the former chair of the Democratic Leadership Council, an organization that has long been at the forefront of the reform movement, Ford became close to the Clinton wing of the Democratic Party and was described by President Bill Clinton as "the walking, living embodiment of where America ought to go in the 21st century."

Both during and following his tenure in Congress, Ford has been a longtime supporter of small and mid-size businesses, as well as a staunch advocate for fiscal and economic reform. As an unapologetic supporter of the historic energy renaissance the country has undergone over the last decade, Ford continues to be one of energy reform's leading voices. Since leaving office in 2007, he continues to work diligently to promote healthy non-partisan debate on today's most pressing issues, both in Washington and in communities across the country. With profound changes to America's political landscape set to take place following the midterm elections of November 2014, Ford helps organizational and political leaders understand what the Obama administration and congress can do to make progress on the key hot-button issues that can move the country forward.

Currently, Ford serves as a political analyst and contributor for CNBC and MSNBC, and a Professor of Public Policy at the NYU Robert F. Wagner Graduate School of Public Service.