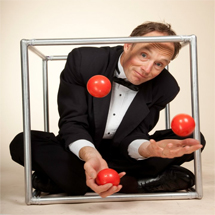 Henrik Bothe
Juggler, Comedy, Magic, Entertainment
Why Book Henrik Bothe?
Mix the gentle humor of Victor Borge, the physical agility of Seinfeld's Kramer, and the cross-generational appeal of Charlie Chaplin and you have some idea of what Henrik Bothe brings to the stage.


He brings audiences to their feet while sharing with them the most powerful of gifts – laughter.
Remember everyone's favorite plate spinning act on the Ed Sullivan Show? Danish born physical comedian Henrik Bothe has recreated that act. Nothing gets an audience going more than when Henrik is fighting for his life trying to get all eight plates spinning... and nothing brings out a louder response than when he succeeds.

This is the perfect match for your event if you are looking for an act that can connect a group with laughter. Not only does Henrik spin plates but he performs a full "vaudeville style" variety show spanning from comedy magic escaping a straitjacket while riding on a unicycle to a high tech glow-in-the- dark mesmerizing optical illusion called "Neonman".

He has delighted audiences all over the world from the Tonight Show w. Jay Leno to the Russian State Circus in St. Petersburg and was even featured lately on the Gong Show, twice, and didn't get gonged! Whether you are looking for a brief "knock their socks off" opening or a full gala entertainment set, Henrik can provide a show that will exceed your expectations of what entertainment can be like.