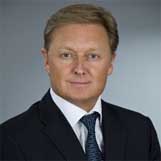 Henrik Fisker
Leading Automobile Designer & CEO of Fisker Automotive
Traveling From
California
X
Program Descriptions
Learn by Dropping the Ball
Henrik Fisker is the founder and CEO of HF Design & Technology with various automotive, technology & consumer ventures underway. Fisker earlier this year launched the Lauge Jensen Viking Motorcyle, and more recently launched the Mustang Rocket at the 2014 LA Auto Show.

Previously Henrik Fisker was the co-founder, executive chairman, and chief designer at Fisker Automotive. Immediately prior to co-founding Fisker Automotive in August 2007 Fisker was, and remains, co-founder and chief executive officer of Fisker Coachbuild, an automotive design house established in 2005 that revived the art of coachbuilding by combining beautiful design with existing world-class engineering.

From 2001 to 2005 Fisker held prominent design positions at Ford Motor Company. He was creative director at Ingeni, Ford's London-based design and creativity center. At Aston Martin he served as a member of the Board of Directors and design director. There he designed the Aston Martin V8 Vantage and was responsible for the production launch design of the DB9, variants of which were James Bond's preferred vehicles.

Fisker was also director of Ford's Global Advanced Design Studio in southern California. Designed under his direction were several show cars including the Shelby GR1 concept showcased at the 2005 North American International Auto Show.

In January 2001 Fisker became president and chief executive officer of DesignworksUSA, BMW's California-based industrial design subsidiary. Some of his most notable works include the BMW Z07 concept (1997) and Z8 roadster (1999), another Bond car.

In 1989 Fisker began his career in Germany at BMW's advanced design studio, BMW Technik GmbH, upon graduating from The Art Center College of Design in Switzerland.