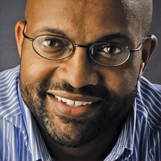 Jabari Asim
Cultural Voice
Jabari Asim is the editor-in-chief of "Crisis" magazine, a preeminent journal of politics, ideas and culture published by the NAACP and founded by W.E.B. Du Bois in 1910. He spent 11 years at the Washington Post, where he served as deputy editor of the book review section. For three years he also wrote a syndicated column on political and social issues for the Washington Post. He is the author of The 'N' Word: Who Can Say It, Who Shouldn't, and Why and In Asim's latest book, WHAT OBAMA MEANS: ...For Our Culture, Our Politics, and Our Future (HarperCollins, Jan. 20, 2009) Asim shares his insight into the Barack Obama phenomenon pointing to the causes that contributed to the cultural transformation and political shift to the fabric of America.

Kirkus Review of "What Obama Means"… "Asim identifies and explains the significance of many of Obama's cultural antecedents from the world of sports (Arthur Ashe, Michael Jordan, Tiger Woods), music (Prince, Michael Jackson, Jay-Z), movies (Sidney Poitier, Morgan Freeman, Denzel Washington), television (Bill Cosby, Dennis Haysbert) and politics (Shirley Chisholm, Doug Wilder, Jesse Jackson). He demonstrates how these icons had already helped shape society in a fashion that enabled Obama's breakthrough. To a generation raised on The Cosby Show, "accustomed" to a black president through TV shows like 24 and familiar with authoritative, real-life figures like Colin Powell and Condoleezza Rice, the Illinois senator's seemingly effortless ability to bridge the black and white worlds appears unremarkable."

Asim is a frequent public speaker and commentator who has appeared on The Today Show, The Colbert Report, Hannity & Colmes, the Tavis Smiley Show, the Diane Rehm show and countless other programs. He has lectured at many of the nation's finest universities, including Northwestern University, Syracuse University and the University of Florida.
<>
He is a former vice president of the National Book Critics Circle whose reviews and cultural criticism also have been published in the International Herald Tribune, the Phoenix Gazette, Los Angeles Times Book Review, Salon.com, the Detroit News, The Village Voice, Hungry Mind Review, XXL, Code, Emerge, Essence, Africana.com and BlackElectorate.com.

An accomplished poet, playwright and fiction writer, Asim has published work in a number of anthologies and literary magazines. He was the only writer to have both poetry and fiction included in In The Tradition: An Anthology of Young Black Writers; his short story Two Fools appeared in Brotherman: The Odyssey of Black Men in America (Ballantine); and his poems, along with Peace, Dog, a one-act play, were published in Soulfires: Young Black Men on Love and Violence. His critical essay, What Is This New Thing? appears in The Furious Flowering of African-American Poetry. His poetry was published in African American Writers: A Literary Reader; and an essay appeared in Step Into A World: A Global Anthology of The New Black Literature.

His poetry was also published in the anthologies Role Call: A Generational Anthology of Social & Political Black Literature & Art, Beyond The Frontier: African-American Poetry for the 21st Century, and appeared most recently in The Harlem Reader: A Celebration of New York's Most Famous Neighborhood from the Renaissance Years to the 21st Century; and in From The Black Arts Movement to Furious Flower: A Collection of Contemporary African American Poetry. The Road To Freedom, his first novel for young readers, was published in 2000. He is editor of Not Guilty: Twelve Black Men Speak Out on the Law, Justice and Life, published in November 2001.

His other children's books include Whose Toes Are Those, Whose Knees Are These, and "Daddy Goes to Work."

Jabari Asim lives in Maryland with his wife, Liana and their five children.