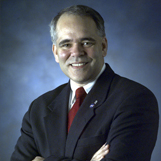 Dr. Jack Bacon
Scientist & Distinguished Futurist
X
Program Descriptions
Killer Apps for the Green Global Village
The world is going back to green lifestyles that had been practiced for centuries before the industrial revolution. However, our modern productivity and lifestyle are the result of several centuries of automation, communications, and power that had no precedent in societies that serve as our model of "green." As we struggle to achieve an ecological balance, much of the modern world will need complete and revolutionary reinvention. The spreadsheet was a "killer application" that redefined computing. What are the "killer Apps" that will redefine the green societies of yesteryear? Futurist and technological historian Dr. Jack Bacon will take us on a guided tour of such "killer apps", and forecast what they mean to those of us shaping the world's future.

Nonlinear Thinking for a Nonlinear World
One can always find a human lost in the wilderness by looking for a straight line. We build along straight lines, we walk along straight lines,, and we plan along straight lines too. Humans generally try to reduce all trends to linear plots (resorting to logarithms if necessary to straighten out a curve), because that's the easiest way to pattern our lives and to predict our future. Almost all our models of human behavior are handled in what computer analysts call "linear programs". However, in our persistent tendency to linearize the world, we lose our ability to predict the colossal impact of highly nonlinear changes that Malcolm Gladwell has dubbed "tipping points." Futurists and stockbrokers work to understand the first hints of trends that will take humanity in new directions, and at new rates. In a world that is changing demonstrably faster than in previous times, modern leaders must be prepared to jump as fast or faster than the world does. Those who are ahead of the curve have the potential to lead, to survive and to thrive in chaotic times. In this presentation, we will explore how to spot the nonlinear trends early as they begin to emerge from the status quo, and we will look at many of the major new trends that will shape the second decade of the 21st century.

The Parallel Bang: The Explosive Growth of Human Understanding in the 21st Century
Humans have been doubling what we know and what we can do every 30 years since the Renaissance, and after each lifetime of such change, it is always easy for an older person to believe that life is now "too fast". If you step back and take the broader view, you can soon see that in THIS generation, they might be right. The pace is showing many signs of picking up in all facets of society, giving new reasons to share in our elders' bewilderment. Economic cycles are ten times shorter than a century ago, manufacturing efficiencies are taking off at greater rates, global communication and digital storage are essentially free, and basic science and technology are making huge leaps that defy the 30 year doubling rule. If the universe started with a Big Bang, it appears that human understanding of that universe now going through an explosive new creation of its own. A shift in human society is going on today that will totally eclipse the growth increases of the Renaissance and the Industrial Age. History will look back at this decade with reverence and awe. We'll explore some of the data that supports this prophecy, and look at what may happen to the world as we go through this "Parallel Bang" of understanding.

Workshop: Creativity and the Workings of the Human Mind
This workshop allows the attendees to explore how their own minds work, and how to get more out of one's own brain, including simple exercises to unlock one's own creativity. Dr. Bacon uses his training as a cognitive scientist and facilitator to illustrate some of the astonishing power and embarrassing shortcomings of the human brain. The simple exercises and demonstrations are easily remembered and transferred back to the office team-mates.
Why Book Dr. Jack Bacon?
Dr. Jack Bacon is an expert on technology and other factors which shape the future of societies. He has a degree from Caltech and is an emeritus of the American Institute of Aeronautics and Astronautics
He has pioneered research involving artificial intelligence systems and is a founding member of the Science National Honor Society, as well as recipient of the U.S. Government's Exceptional Achievement Medal.
Jack Bacon has often been called "A New Carl Sagan." He is an internationally-known motivational speaker, a distinguished lecturer (emeritus) of the American Institute of Aeronautics and Astronautics (AIAA), and one of the most requested speakers in the world for topics concerning technology and the factors that shape human society. A noted futurist and a technological historian, he has written three popular books entitled My Grandfathers' Clock, My Stepdaughter's Watch, and The Parallel Bang, with many thousands of copies sold of each. A fourth: Killer Apps for the Green Global Village is in the works. His lectures have captivated tens of thousands of all ages in thirty-eight countries on six continents, and he has appeared on numerous radio and television broadcasts.

A graduate of Caltech (B.S. '76) and the University of Rochester (Ph.D. '84) his extensive career includes roles in the development of many cutting edge topics, including controlled thermonuclear fusion, the development of the electronic office, factory automation, the human conquest of space, third world agricultural enhancements, and the globalization of business. He pioneered the deployment of several artificial intelligence systems, learning his craft at the famed Xerox Palo Alto Research Center.

Jack is a fellow of the Explorer's Club, a member of the AIAA, the National Speakers Association, the International Federation of Professional Speakers, Engineers Without Borders, and Rotary International. He was a founding member of the board of directors of the Science National Honor Society, and is a recipient of the US Government's Exceptional Achievement Medal. He routinely advises numerous academic programs and institutions, and he is a champion of education throughout the world.