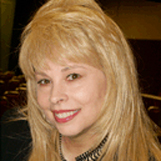 Jacqueline Marcell
Eldercare Advocate, Author, Radio Host
Traveling From
California
X
Program Descriptions
Managing Family, Career, Elderly Parents & You!
Long Term Life Planning + Legal & Financial Issues
Managing Difficult Behaviors in Elders
Care for the Caregiver + Stress Management
Surviving Breast Cancer with Humor & Grace
Writing, Self-Publishing, Celebrity Endorsements
JACQUELINE MARCELL was a television executive, but barely survived as a caregiver to her (once-adoring) challenging father and sweet ailing mother, both with Alzheimer's undiagnosed for over a year. But after fighting through the medical system and depleting her parents' life savings and much of her own, she figured everything out medically, behaviorally, socially, legally, financially and emotionally.

Passion to save others (especially from elder abuse) compelled her to write "Elder Rage", a Book-of-the-Month Club selection required at numerous universities and considered for a film. She also launched the "Coping with Caregiving" radio show -- and became a sought-after international speaker to educate on issues which unnecessarily cost years of her life -- and then nearly her life itself when she survived invasive breast cancer.

Jacqueline has given hundreds of "edu-taining" presentations, including for the California Governor's Conference, National Security Agency (closed-circuit to 36,000 employees worldwide), Alzheimer's Association, Area Agencies on Aging, National Academy of Elder Law Attorneys, and Florida House of Representatives. Her talks are modifiable for any group, CEU/CMEs, numerous topics and references.

Dementia costs American business multi-$billions a year, largely due to lost productivity as employees go care for loved ones. By the age of 65, one out of eight gets dementia, and by age 85 nearly one in two. Jacqueline's presentation, Managing Family, Career, Elderly Parents and You!, stresses the 10 early warning signs of dementia and creative behavioral techniques for managing challenging situations. Employers, who impart this information to employees, can save them a lot of stress and heartache -- and everyone a lot of money!

MEDIA: TODAY, CNN, PBS Alzheimer's Documentary, AARP Bulletin cover story, Woman's Day, Prevention, hundreds of radio/television interviews.

HONORS: Media Award from the National Adult Day Services Association--and Advocate of the Year from the National Association of Women Business Owners.