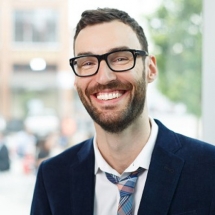 Jake Knapp
Partner, Google Ventures
Traveling From
California
X
Program Descriptions
From Google to Startups: How to Solve Big Problems and Test New Ideas in Just 5 Days
To help teams at Google build better products faster, Jake Knapp created the Design Sprint. It's a step-by-step process combining strategy, design thinking, behavioral science, and Lean Startup-style rapid learning. It also happens to be a lot of fun. Jake has run the method over 100 times with startups like Slack, Nest, 23andme, and Uber. His book Sprint was an instant bestseller and today teams around the world are adopting the Design Sprint. With stories and illustrated examples, Jake will explain the unconventional wisdom behind the Design Sprint—and show how any team can use the process to find innovative solutions and try risky ideas fast.

Creative a Culture of Innovation
Innovation is difficult, and taking ideas from the whiteboard to real world success is rare. But it doesn't have to be. New York Times best-selling author Jake Knapp believes any team can create a culture of innovation by shifting their approach to new projects. Through stories and hard-won lessons, Jake will explain how to get the best ideas from every person on your team, make great decisions without groupthink, validate ideas before wasting time, and set the course for building products customers love. Best of all, these changes bring teams closer to each other and their shared purpose—and foster true joy at work.

How Creativity Works
Conventional wisdom says people are either creative or not—and most of us believe we're not. The truth is that creativity isn't a trait in your DNA, nor is it a touchy-feely activity that's only for artistic types. In this talk, New York Times best-selling author Jake Knapp decodes the simple activities any individual or team can use to develop new ideas and think like a designer.
Why Book Jake Knapp?


Author of the New York Times Bestseller Sprint


During 10 years at Google, Jake co-created Google Hangouts and developed the Design Sprint process now used by teams and companies around the world


As a design partner at Google Ventures, advised over 100 startups including Slack, Nest, 23andme, and Uber


Featured in the Wall Street Journal, The Financial Times, TechCrunch, Bloomberg Businessweek, and NPR Marketplace
Jake Knapp is the New York Times best-selling author of Sprint. He spent 10 years at Google, where he created the Design Sprint process, and he has worked with over 100 startups including Nest, Slack, 23andMe, and Uber. Jake is currently among the world's tallest designers.

Jake has spoken about innovation at companies from LEGO to IDEO and at universities like Stanford, Berkeley, Columbia, and Harvard. His writing on startups and productivity has appeared in Fast Company, TechCrunch, Slate, and LifeHacker.