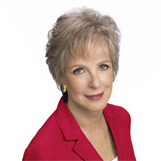 Jane Bryant Quinn
Nation's Leading Commentator On Personal Finance
X
Program Descriptions
Making the Most of Your Money Today
Ideas on managing money, for people of all ages.

The Economy and Your Money
The state of the economy today, the most topical issues, and what it all means for managing money.

Yes, You Can Still Retire Well
On retirement planning and managing money in retirement.

Why Women Are Great Investors
For women's groups, the research on women as investors (they do as well or better than men) and how to make investing work for you.

A Custom-Tailored Speech
Directed specifically to the concerns of your audience.
Jane Bryant Quinn, Contributing Editor A 1997 winner of the prestigious Gerald Loeb Lifetime Achievement Award as well as the 1995 Award for Distinguished Business and Financial Journalism, Newsweek contributing editor Jane Bryant Quinn has been praised for her "overall contribution to consumer journalism." And " for consistent presentation of unique information in a thoughtful, concise manner." Quinn was named one of the "100 Most Influential Business Journalists" of 1997 by The Journalist and Financial Reporter newsletter, which noted "In a increasingly competitive field, she continues to lead the pack." The World Almanac has named her one of the twenty-five most influential women in America. Writing on finance and money management for the magazine since May 1978, Quinn says that she tries "to make the column as useful as possible." "If something can go wrong with new financial products," Quinn says, she tries to find out "what it is likely to be." Quinn also writes a regular column for Good Housekeeping. She has reported on business for television broadcasts such as CBS Evening News with Dan Rather, the CBS morning news and other nationwide programs. In 1988, she hosted Take Charge, a television show on personal money management produced by KQED in San Francisco for the Public Broadcasting System. In 1997, she co-hosted Beyond Wall Street, an investment series that also ran on PBS. In 1995, she helped develop the industry's leading financial planning software program, Intuit's Quicken Financial Planner. Quinn has received an Emmy Award and a Janus Award for her business reporting on television. She is a two-time winner of the John Hancock Award for Excellence in Business and Financial Journalism (1992, 1995) and a three-time winner of the National Press Club's Consumer Journalism Award (1984, 1982 and 1981). She has numerous other awards to her credit. Quinn's book, Making the Most of Your Money (Simon & Schuster, 1991), landed on the New York Times best-seller list. An updated edition was published in 1997. Reviewing the book, Forbes editor James Michael noted that Quinn "manages to be reader-friendly and sophisticated on everything from buying homes and insurance and securities to dealing with problems of divorce, retirement and education." Her previous book, Everyone's Money Book (Delacorte Press, 1978), was Book-of-the Month selection and a national best-seller. Her book, A Hole in the Market (The Whittle company, 1994), examined the effects of the economy on the baby bust generation. From 1974 to 2001, Quinn wrote a twice-weekly newspaper column syndicated by the Washington Post Writers Group. Earlier, Quinn was co-founder, editor and general manager of McGraw-Hill's Personal Finance Letter. She was a reporter, then a co-editor of the consumer publication, The Insider's Newsletter, formerly published by Look magazine. Quinn is a magna-cum-laude graduate of Middlebury College in Vermont.