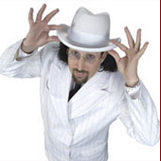 Jay Alexander
Master Magician and Comic
Traveling From
California
X
Program Descriptions
The Jay Alexander Show
This is a fast paced comedy, magic and mentalism show that will have the group on the edge of their seats laughing in amazement. Will be personalized to your event.

Cocktail Hour Magic
Magic done close-up and personal. You will be amazed how Jay Alexander will have groups of 20-30 people at a time gather around screaming with excitement as they witness Jay Alexander's close-up magic and mind reading. It's funny, unique and smart.

CEO Reveal
The magical appearance of the company's CEO from nowhere! This is definitely the perfect way to open any event. We have created many ways to do this. Let's discuss your theme and I will get back to you with ideas on how to best make it happen.
A master magician and comic, Jay Alexander is one of the top corporate and society entertainers in the country. He has appeared on the Today Show, Good Morning America, MTV and a favorite on many morning shows. Jay creates customized shows for Fortune 500 companies.

Jay Alexander is the great grandson of the legendary vaudeville performer, Gentleman Ben Darwin. As a child, Jay found a trunk in his grandparents attic filled with magic and escapes. His interest in magic took off from there. At the age of fourteen Jay was honored to be the youngest recipient of the Society of American Magicians Gold Medal of Honor. For over 25 years, Jay has lived his passion of creating unique live entertainment.