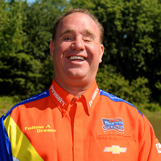 Jay Blake
The Only Totally Blind Crew Chief In The Worldwide Sport Of Auto Racing
Traveling From
Massachusetts
X
Program Descriptions
"Tools for Life Success"
In this moving presentation, speaker Jay Blake motivates the audience to pursue their life dreams by using his personal testimony following a life-changing accident which left him totally blind. Jay recounts his journey from the accident to realizing his own dream of owning a professional racing team. Important life values and skills such as a positive attitude, the importance of education, passion, self-determination, and team building are underscored in this motivational, life-affirming address from a speaker who, indeed, has "walked the walk." While Mr. Blake's passion is automotive based, presentations are designed to inspire individuals to pursue their life goals & dreams. effective and suitable for audiences ranging from students to business teams.
Why Book Jay Blake?
Jay has a story that is sure to inspire, with his dedication to showing anyone that positivity, self-determination, and teamwork are key elements of life that enable you to enjoy every day
Today he is a disabled individual who lives his life to the fullest as a nonprofit owner and a racing professional
While working as the head mechanic of a transportation company in May 1997, Jay Blake was involved in an industrial accident that caused him to lose complete sight, smell and taste. At the age of 31, he was faced with relearning how to live as a completely blind person. Refusing to give up on life, Jay aggressively participated in rehabilitation. With renewed self-determination, Jay began to follow his dream: owning a professional auto-racing team. He soon learned that even without his sight, he was still able to do what he loved most − work on racing engines. Turning his dream into a reality, Jay combined his renewed participation in drag racing with his desire to spread his true-life success by inspiring others to accomplish their goals through the power of positive thinking, self-determination, and teamwork. After winning the Eastern U.S. championship in 2012, Jay & his team of racing professionals finished in the top ten in NHRA national standings in 2013 and 12th in 2014, highlighted by victories at the Lebanon Valley Dragway regionals both years.

Mission
Established in 1999, Follow A Dream is a non-profit 501(c)(3) organization with the mission of demonstrating the power of positive thinking, self-determination, and teamwork. The organization's message is uniquely delivered through NHRA drag racing as its medium. As racing's only totally blind, race crew chief, Follow A Dream Founder Jay Blake draws upon his personal experience of overcoming adversity and achieving his dream of auto racing, and shares his inspiration with others.