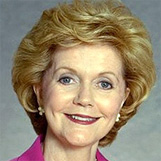 Jean Gatz
Helping Clients and Audiences Stand Out from the Crowd
X
Program Descriptions
Positive Impact Leadership: How to Influence and Lead Others to Success
Learn how to communicate for results, cultivate advocates and allies, network at a whole new level, and utilize your leadership skills in every area of your life. Leadership skills are LIFE skills that will definitely help you STAND OUT FROM THE CROWD in a positive way.

10 Ways to Stand Out from the Crowd: How to Exceed Expectations and Out-Shine Past Performance
With insight and humor, Jean shares the 10 strategies you will need to out-perform the competition, out-think old ideas, out-shine past performance and out-maneuver anyone who says it can't be done.

Finding Balance in a Hectic, Hurried World: How to Create a Sense of Well-Being in your Life at all Levels
At the end of the day you must respect yourself, believe that you've made good choices, be responsible for the consequences of those choices, and be satisfied that you did the best you could do. Jean guarantees that you will laugh while you learn how to stress-proof your life in this hectic, hurried world.

I Already Took a Pain Pill, So Why are You Still Here?: How to Deal with Difficult People and Reduce Conflict
Identify the seven sources of conflict on any team – and how we often unintentionally contribute to that conflict. Negotiate wisely without manipulating others. Recommit to working together as a productive and cohesive team. Create an Action Plan to deal with difficult people – without becoming one.
Are you searching for a keynote speaker who can guarantee the success of your next event? One who can engage, inspire and entertain your audience while she helps them improve leadership performance, increase personal accountability and embrace change? Then you want Jean Gatz! She's THE EXPERT at Getting to the Heart of Success in leadership, teamwork and life.

An in-demand speaker with exceptional credentials, Jean works with organizations of all sizes and budgets. She prides herself on providing the important "extras" to make your job easier. A speaker who brings value, delivers a message that resonates, and stays within your budget, Jean provides the WOW factor your event needs... at an immense value.

Though she's committed to helping organizations stay competitive and be more profitable, audiences get a real treat every time Jean takes the stage. No matter how serious the topic, your attendees are guaranteed two outcomes: lots of humor plus powerful insights they won't forget. Get ready to embrace a relatively untapped path to productivity and profitability as Jean engages the hearts and attitudes of your people.

Jean is one of only a few women in the world to hold the designation of Certified Speaking Professional (CSP). This means she has the proven platform experience, understands what's required, and knows how to deliver client satisfaction every time. Voted one of the "Top Ten" speakers by SHRM at the largest HR conference in the world, Jean is also ranked as a Platinum Level Speaker for Meeting Professionals International (MPI). The author of four successful books, Jean delivers keynotes and workshops for associations, business and industry, healthcare, education, women's organizations, human resources, government and faith based organizations.