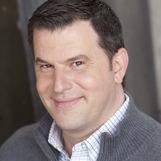 Jeff Rogers
Makes Meetings Fun and Memorable
X
Program Descriptions
How to become a PLAYmaker
Why Book Jeff Rogers?


Learn how improvisation is the key to teamwork, communication and innovation.
A veteran of The Second City Theater, Jeff performed with Steve Carell, Stephen Colbert, and Tina Fey.
Jeff Rogers, is a Professional Corporate Emcee, Cable TV Host, Best Selling Author, and sought after public speaker with 20+ years experience engaging corporate audiences.

Jeff can be seen on TV in his recurring roles on Empire, Chicago PD, and Chicago Fire as well as many national commercials. Jeff specializes in understanding his client's strategic goals for an event and then offering out of the box ideas combined with innovative solutions to deliver award winning results across the continuum of the communication including pre, post, and virtual.

Starting off as the second youngest performer behind John Belushi to be hired at the renowned Second City theater, home to comic luminaries such as John Belushi, Dan Ackroyd, Bill Murray, Gilda Radner, Chris Farley, and Mike Meyers, Jeff performed with Steve Carell, Stephen Colbert, Tina Fey Amy Pohler, and Keegan Michael Key.

Jeff's clients include Fortune 500 companies across all vertical industries such as: Major League Baseball, IBM, HP, Microsoft, RED HAT, Motorola Solutions, SUN, Abbott, Pfizer, Merck, Takeda, Astellas, Cardinal Healthcare, CareFusion, Horizon Pharma, Baxter, McDonald's, Burger King, Church's, Pepsi, 7UP, GM, Ford, Chrysler, International, Waste Management, Bank of America, CNA, Chase, Century 21, AADE, NXTComm, PCMA, AORN, MillerCoors, Anheuser Busch and many, many more.

Jeff's clean humor, business savvy, and understanding of your goals makes him a perfect choice for your next meeting or event. Got to MeetJeffRogers.com to watch a demo reel and download a free white-paper on the benefits of hiring a professional host.