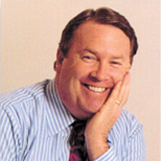 Jeffrey Fox
Innovative Marketing Strategist
Traveling From
Connecticut
X
Program Descriptions
Dollarization
Fox & Company has pioneered the practice of "dollarization" in sales and marketing. Dollarization is based on the following theory: People buy for one of two reasons: to feel good or to solve a problem. "Feel good" is measured in intangible values, such as the stylish fit of a sweater, the taste of a fine wine or the tight cornering of a new sports car. The solution to a problem represents either the avoidance of loss (e.g., reduced warranty costs) or the chance for gain (e.g., improved sales). Both the avoidance of loss and the chance for gain can be measured in dollars and cents, or "Dollarized." Dollarizing is the act of assessing the differences between your products and competitive products and calculating the financial impact those differences have on your customer. Dollarization has been successfully used to dollarize products ranging from a $1 million pharmaceutical centrifuge to a 2 cent o-ring. It has also been used to fend-off low-price competitors, to sharpen advertising claims, to set pricing and to segment customers. Whether you sell medical devices to hospitals, capital equipment to heavy industry, or pesticides to farmers, you will improve your sales, margins and marketing effectiveness by dollarizing your product's actual value.
Jeffrey Fox founded Fox & Company, Inc., a marketing consulting firm, in 1982. Client engagements include marketing strategy, innovation enhancement, selling skills training, branding, and various applications of a proprietary methodology called "dollarization." Prior to starting Fox & Co. Jeffrey was Vice-President, Marketing and a Corporate Vice President of Loctite Corporation. He was also Director of Marketing for the wine division of The Pillsbury Co., and held various senior level marketing jobs at Heublein, Inc., including Director of New Products. Jeffrey is the winner of "Sales & Marketing Management" magazine's Outstanding Marketer Award; winner of the American Marketing Association's Outstanding Marketer in Connecticut; and the National Industrial Distributors award as the Nation's Best Industrial Marketer. He is the subject of a Harvard Business School case study that is rated one of the top 100 case studies and is thought to be the most widely taught marketing case in the world.

Jeffrey graduated from Trinity College in Hartford, Connecticut, and earned his MBA from Harvard Business School. He served as Trustee of Trinity College, and has won several alumni awards including Person of the Year. He is a member of the Board of Directors of Saint Francis Hospital, one of the nation's top 100 hospitals. Jeff is the author of How to Become CEO, which was on the NY Times, Business Week, Wall Street Journal, Knight-Ridder, Amazon.com, and German best seller lists. The book is published in twenty-five languages and in all the major countries of Western Europe, Asia, and South America. Jeff's second book, How To Become A Rainmaker was also a BusinessWeek and Wall Street Journal best seller, and is being published worldwide. His third book Don't Send A Resume, published in May of 2001, is a contrarian approach to marketing oneself.


Books