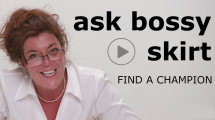 Jenny "Bossy Skirt" Holaday
Witty, actionable advice to help Millennials to Boomers navigate the workplace!
X
Program Descriptions
Career Development for Millennials
Tackling Generational Biases in the Workplace
Re-Establishing the Ground Rules in a Post #MeToo Workplace
Improving (For Real This Time) Your Corporate Culture
Why Book Jenny?
Jenny has enjoyed an expansive career as a marketing and operations executive. Her extensive experience in corporate, entrepreneurial, and family run operations, creates a uniquely broad understanding of the workplace and its dynamics.
Jenny followed her passion for mentorship into a career dedicated to professional development, initially as the president of a digital media company offering work inspiration for millennials, and now as the emerging on-line media personality: Bossy Skirt
Jenny's deep, real-world understanding of complex work cultures allows her to create custom messaging and actionable advice for any organization looking to motivate, educate and inspire current and next-generation leaders.
Jenny Holaday is an experienced executive, an insightful commentator and a force of nature! She has over 30 years of leadership experience in the hospitality industry, many of them in male-dominated, executive level positions. She began her career as a call center representative, and exited the industry as a Senior Vice President of Operations, leading a $500+ million-dollar business. Jenny is now the President of Fuel Leadership, where she dedicates herself full-time to the career advancement and professional development of our next generation of leaders.