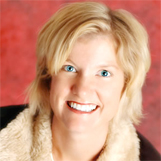 Jill Fleming, RD
Simple Choices for Permanent Weight Loss
Jill Fleming is a Registered Dietitian with a Masters degree in Nutritional Sciences and a Bachelors degree in Dietetics. She is a member of the Nutritional Entrepreneurs Practice Group and the American Dietetics Association. She is also a member of the National Speakers Association - Wisconsin. Her career focus has been as a weight loss specialist.

Jill developed the THIN CHOICES program after experiencing a life-transforming event herself. After gaining 40 pounds in just two years, she applied her considerable knowledge of nutrition, which allowed her to lose the excess weight in ten months and maintain it with simple, easy-to-follow lifestyle changes.

As a result of her own personal success, she established and led weight loss programs for two hospitals and a fitness center, consulting with thousands of individuals and groups. With Jill's natural ability to motivate others, the results, as demonstrated by her clients, have been both impressive and permanent. Clients state that they will never starve themselves again with restrictive diets, as they continue to maintain their healthful, ideal weight by following her program.

For 11 years, Jill has continued to teach individuals and small groups how to lose excess body fat with her THIN CHOICES weight loss and maintenance program. Jill says, as the mother of three young children, if she is able to follow the THIN CHOICES strategies, anyone can!

To help stop the epidemic rise of obesity in America, Jill will continue to reveal her non-restrictive approach to permanent weight loss and maintenance in a speaking tour of major U.S. cities beginning in April of 2004. The tour will educate attendees on the concepts and lifestyle habits of her healthy living program featured in her breakthrough book, Thin People Don't Clean Their Plates.