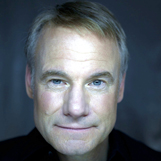 Jim Meskimen
Veteran Comedian, Actor & Improviser
Traveling From
California
X
Program Descriptions
JIMPRESSIONS, a two-act homage to the art of vocal mimicry, is his ninety minute, two-act tour de force in which he relates his observations of and experiences with over 65 different celebrities, from George Clooney, to Kevin Spacey, from William Shatner to Morgan Freeman… and even Flipper.
As a professional actor for nearly thirty years Jim Meskimen has appeared in the films Apollo 13, The Grinch, Frost/Nixon, The Punisher, Not Forgotten, There Will Be Blood and many others. Some of Meskimen's TV credits include recurring roles on Parks & Recreation, Fresh Prince of Bel Air, Friends, Whose Line is it, Anyway?, Castle, Lie to Me and Rules of Engagement.

His impressions of political figures in the 2004 election were showcased in animated cartoons by JibJab that were among the most popular items on the web. His viral Shakespeare in Celebrity Voices has nearly a million views and subsequent viral videos have cemented him as a major YouTube talent.

In 2011, the Australian Today Show dubbed Meskimen, "The World's Greatest Impressionist."

As a finalist on America's Got Talent in 2013, he performed improvised celebrity impressions at Radio City Music Hall in New York City to a standing ovation.

Meskimen continues to supply new and unusual impressions for film and television, including George Clooney's Monuments Men, where he provided the voice of President Harry Truman.

He is currently starring in The Impression Guys, an original half-hour series on YouTube's SoulPancake Channel, produced by Rainn Wilson and directed by Ben Shelton. The series has been called, "The Best Web Series of 2014."

Meskimen lives in Los Angeles with his wife, actress and founder of The Acting Center school, Tamra Meskimen. His daughter, Taylor, is also a performer, and his mother is actress Marion Ross, who was Emmy and Golden Globe nominated for her work on Happy Days (as Richie's mom) and Brooklyn Bridge.

Jimpressions! - a hilarious "customized audience interactive" evening of celebrity impressions, comedy and improvisation.