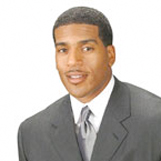 Jimmy Jackson
Former NBA Player & Basketball Analyst
Jimmy Jackson is the lead college basketball studio and game analyst for the Big Ten Network.

Jimmy was the first round draft choice (4th overall) of the Dallas Mavericks in the 1992 NBA Draft. He spent 14 years in the NBA with 12 different teams and scored over 10,000 points.

Jimmy is a native of Toledo, Ohio, and graduated from Macomber High School. A McDonald's All American, he led the basketball team to the school's first state championship. He went on to Ohio State University where he set numerous records and led his school to two Big Ten Championships, and was named UPI Player of the Year in 1992.

Jimmy established the James A. Jackson Foundation (JJF) to give back to the community. Over the years, Jimmy's foundation has donated funds to the Frank W. Hale, Jr Black Cultural Center, the OSU Department of Athletics, the Boys and Girls Clubs, the Big Brothers/Big Sisters of Greater Toledo, the YWCA's Encore Plus Program, the Wayman Palmer Center, the Frederick Douglas Community Association and many others.

Jimmy sponsors a free week long basketball youth clinic at the University of Toledo and sponsors a yearly AAU basketball team. Jim is the originator and sponsor of the Glass City Summer Basketball League, and the UT Jim Jackson Summer Minority Institute. Jimmy spends a lot of his time delivering motivational speeches and spending productive time with children.

Jimmy resides with his family in Toledo, Ohio.