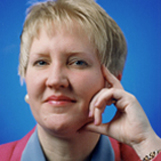 Joanne Dennison
Professional and Personal Growth Expert
Traveling From
Massachusetts
X
Program Descriptions
"It's Just…"
A Day in the Life of a Caregiver
24 Hours In A Day
Smiles Everyone: How to Make Your Team Work Smart and Work Happy
How to Make Your Team Rock
I'm Very Busy (Procrastinating) Right Now
Is This What I Really Wanted to Be When I Grew Up?
Joanne Dennison, MSED, CMP, has owned her own business for 13 years. The business first focused on the planning of meetings and events. Returning to her roots as an educator, she now increasingly spends her time in the front of the meeting room.

In some circles, she is best known for being an expert trainer and consultant in the event and meeting planning field, and is a recognized teacher for CMP Study Groups. At her clients' request, Joanne expanded to include topics such as leadership, personal and professional growth. She is an expert on getting people moving forward in a positive and productive way, leading ordinary people to extraordinary results. She has been affectionately tagged the "Guidance Counselor for Grown-ups" by the individuals she has motivated and lovingly pushed, as they went kicking and screaming toward their goals.

Known for her straightforward, and sometimes humorous, style of writing and speaking, Joanne has been called "A lightening rod of inspiration" and "someone you want in the room when you have a problem to solve."