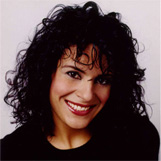 Jodee Blanco
Author of Please Stop Laughing at Me . . .
X
Program Descriptions
It's NOT Just Joking Around!™ – Understanding School Bullying Through the Eyes of a Former Victim
I bring the audience inside the heart and mind of the bullied child, and let them see the world through their compelling point of view. I share some of my most unforgettable experiences working deep inside the trenches of America's schools. This keynote is intense, inspirational and cuts to the core of what it means to be a bullied child through the perspective of only someone like me, who was bullied herself and who holds hundreds of bullied students in her arms every day as they pour their hearts out to her, can understand.

Triage for the Bullied Through a Survivor's Eyes
I share with the audience what you should never say to a bullied child and why; what you should say and do; how the bully and the victim are flipsides of the same coin and how to identify and assist both; the two types of bullying; the two types of popular students; the typical profile of the bullied child; how to intervene with a bullied child one-on-one; how to intervene with a group; why traditional punishment doesn't always work and how to discipline with compassion; how to deal with the parents of bullies and/or victims; how to spot the warning signs a victim may be suicidal or contemplating revenge; the single biggest oversight of adults when trying to help a bullied child that can often lead to tragedy and how to avoid it; where to turn for support; and other vital information.

I also reveal the worst mistakes the adults in my life made, what I wish they would have done differently; the most common complaints I hear from bullied students today, and what they want their teachers and parents to know but don't have the courage to tell them. My entire focus from start to finish will be to touch hearts, open minds, and most importantly, give hope.

When Parents Bully The School
If you've ever had to deal with an over-bearing or difficult parent, this workshop will help you work effectively and efficiently together. I offer proven strategies on how to handle the irate, unreasonable parent who storms into the office, frustrated and unwilling to listen, and begins bullying the school. If you're a teacher, counselor or principal, you know firsthand how difficult it can be to calm that parent down and get them to listen and behave like an adult. I'll provide a fresh, new approach on how to communicate with the irrational parent and successfully motivate him/her to work with the school in everyone's best interests. I'll walk you through what you shouldn't you say to an angry, bullying parent and why, and what you should say and do. I'll teach you the three basic tenants of credibility in communication and how to apply those tenants to win over even the most stubborn, challenging parent, inspire understanding, and most importantly, collaborate on viable solutions that you implement together. By the end of this workshop, you'll have the tools to transform a tense situation with a parent into an opportunity to forge a productive, rewarding partnership that enriches the school, the student, and the student's family.

"I Just Want to Fit In!"
Bullying is as rampant on university campuses as it is in middle and high schools. Many college students live in quiet desperation. Some were bullied or left out by the cool crowd in high school and afraid the same thing will happen again. Others were popular and feel intimidated by the prospect of starting over in a new environment. Then there are the students who simply feel invisible.

This is an exciting and engaging primer for students on how to conquer their fears and make their mark. I reveal the profile of "The Desperate Freshman," how to identify anyone on campus who fits the profile, and how to help them. I talk about the typical mistakes most undergrads make when trying to fit in, and how to avoid them; the warning signs someone may be contemplating self-harm or violence against others and how to successfully intervene; the difference between university life and high school, what to expect and what not to expect; Greek life–to pledge or not to pledge; what to do if the harder you try to make friends, the more alone you find yourself; how to forge lasting bonds in college and beyond.

For any student who wants their college years to rock without having to sacrifice who they are to belong, this is the keynote that will give them the courage and the tools to achieve it on their own terms. This is the presentation I wish would have been available to me when I was an undergrad.

Custom Keynotes and Workshops
I tailor design keynotes and workshops on a broad spectrum of issues related to bullying. I encourage you to reach out to me via phone or email so we can discuss your particular needs and create a presentation specifically for your audience.
Survivor, expert and activist Jodee Blanco is one of the country's pre-eminent voices on the subject of bullying. She is the author of The New York Times bestselling memoir, Please Stop Laughing At Me . . . One Woman's Inspirational Story. A chronicle of her years as the student outcast, the book inspired a movement among bullying victims everywhere of all ages--in middle and high schools, on college campuses, at the workplace, and at home, who fill auditoriums and gymnasiums coast to coast to hear Blanco speak and how they too can reclaim their dignity and their lives.

Blanco's work as a survivor turned activist has been recognized by The National Crime Prevention Council, The Department of Health & Human Services, the National Association of Youth Courts, Special Olympics, The FCCLA (Family, Career and Community Leaders of America),and hundreds of state and local entities from the PTA, regional law enforcement coalitions and suicide prevention organizations to school safety groups, mental health advocacy groups, and drug prevention programs.

Blanco's award winning sequel, Please Stop Laughing at Us . . (BenBella Books), was written in response to the demand for more information from her core audience—teens, teachers, parents and other Adult Survivors of Peer Abuse like herself, who have come to know Blanco as the champion of their cause. It provides advice and solutions set against the backdrop of her dramatic personal and professional journey as the survivor who unexpectedly finds herself the country's most sought-after anti-bullying activist.

While Blanco's unprecedented approach to shifting the social dynamic for bullying victims of all walks of life continues to make headlines worldwide, it is her dramatic success inside America's schools that has established her as a singular force in the field, and enabled her to understand bullying in all its forms. Her take on adult bullying emanates from that rare place of understanding that only someone who deals with the issue at its core could grasp.

She's presented It's NOT Just Joking Around!™, her acclaimed in-school anti-bullying program, to a combined audience of over five-hundred thousand students, teachers and parents nationwide at the behest of such entities as The United States Department of Interior, The United States Department of Justice, The American School Counselor's Association, The National Catholic Educational Association, The Illinois Association of School Boards, The Superintendent's Roundtable, and scores of local school districts, many of whom are adopting her initiatives as part of their core bullying prevention curriculum. It's NOT Just Joking Around! has also generated hundreds of thousands of dollars in grant awards for schools and organizations coast to coast.

On the international front, the Archdioceses of Curacao and Guam, the schools of Guatemala, and the Prime Minister of Trinidad/Tobego, have all brought in Blanco to implement her anti-bullying program throughout their countries.

Blanco has successfully intervened in many bullying related attempted suicides and acts of victim retaliation, ranging from desperate, lonely teens with "hit lists;" badly treated employees at the end of their rope wanting to "end it all," and burnt-out guidance counselors who can't cope anymore; to grief-stricken parents unable to move on. These people open up to Blanco because they see in her a kindred spirit, someone who's willing to crawl down inside the hole where they're trapped and guide them out the same way she did for herself.

In addition to her speaking and writing, Blanco is also a respected crisis management consultant and expert witness in the areas of school violence, peer abuse, and adult bullying, and is frequently called upon by the media as an expert interview. Some of the outlets who have turned to her for commentary include Newsweek, USA Today (two front page stories), CNN, NBC, FOX, "The John Walsh Show" "Anderson Cooper," and National Public Radio. She is the go-to expert on bullying related breaking stories for HLN's "Prime News with Mike Galanos," "Issues with Jane Velez Mitchell", "Nancy Grace," among many other of the nation's top news shows. Blanco has bylined articles on bullying for CNN.com (front page), USAtoday.com, The Huffington Post, and was the focus of an in-depth front-page Q&A on Oprah.com. Her life story has been featured twice on CBS Evening News, and in Parade, Teen Newsweek, USA TODAY, Teen Guideposts, Hispanic Magazine, The Chicago Tribune, The St. Petersburg Times, and hundreds of local daily newspapers across the United States.

A tireless advocate for the shunned and forgotten, Blanco's rare understanding of why kids abuse other kids and how that pattern can continue into adulthood, rearing its head, at work, at home, in relationships and wreak havoc on virtually every aspect of one's life, comes from a deep personal place. From fifth grade through the end of high school, she was rejected and tormented by her peers simply for being different and knows first hand the long-term consequences. As an adult, she decided to go public with her story because she was frustrated with society's misconceptions about bullying, misconceptions that were leading to the loss of lives. As Blanco says to audiences, "no one has the right to abuse you, not your classmates, friends, spouse, family, teachers, co-workers, your boss, no one! Standing up for yourself non-violently in the moment abuse occurs is your human right."

Blanco has been helping the misunderstood, ostracized, and forgotten reclaim that right across America every day. Since the release of Please Stop Laughing At Me . . ., she has committed her life to turning her pain into purpose. Inspired by the thousands of letters and requests she receives for help, she travels around the country sharing her story of forgiveness and triumph. One of the most sought after keynote/motivational speakers and seminar presenters, Blanco's talks are redefining the scope of possibilities for curbing suffering in our schools, corporations, and communities worldwide.

Blanco's other books on bullying include: The Please Stop Laughing At Me Journal…. and Bullied Kids Speak Out: We Survived, How You Can Too. Blanco's work has been published in Japanese, Chinese, Danish, Arabic, Indonesian and Lithuanian. She lives in Chicago.