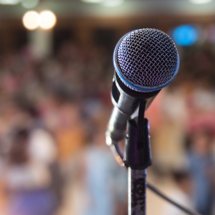 Joe Luginbill
Celebrity Chef and Television Personality
Joe Luginbill is a renowned chef, businessman, elected official and television personality. He was the star of "Joe's Kitchen," a YouTube based show with over 2 million views. Luginbill blends his youthful energy and love of cooking to share his skills and passion with the world. Joe is currently in production for "Around Town with Joe," a new Children's Program on Public Television.

Luginbill sits on the board of directors for a number of public and private organizations. He serves on the Governing Board of the Eau Claire Industrial Development Agency, which encourages economic development and allocates millions of dollars of grant proposals. In 2015, Joe was elected to the Eau Claire School Board.

Joe is an active child advocate, who believes that everyone can cook easy, healthy recipes and have fun doing it! He is a home-taught cook with an emphasis on gluten free, healthier cooking focused on the epidemic of teen and tween obesity. But don't let that fool you; Joe can cook comfort food with the best of them.

Cooking Teens Magazine says of his fame: "Suddenly Joe became a local and – international – celebrity. His mix of comedy and cooking has attracted more than a million viewers, the notice of talent scouts, and autograph-seekers."

Through his love for media and passion for branding, Luginbill (along with several partners and investors) launched "Luginbill Omnimedia," a diversified media and consulting group. Through the Omnimedia, Joe has been a brand ambassador and spokesperson for numerous regional and national companies. At the age of 21, Joe Luginbill is one of the youngest Chief Executive Officers in the country. Martha Stewart has called his work "Very Admirable".

It goes without saying that Joe Luginbill is doing amazing things in the culinary and business worlds. He is every home show, trade show, food show and special event's answer to the question: "what celebrity can I get under $5,000 that is unique and different?" Joe is your guy!