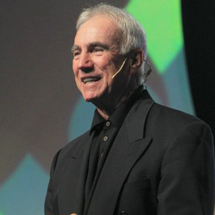 John Cassis
Professional Athlete, Businessman, Minister
X
Program Descriptions
The Game Has Changed
Too often we sit on the sidelines benched by our fears - bogged down by emotions, anchored to a job or stuck in a relationship. With John's special blend of warmth, motivation and humor, audiences are able to identify with the challenges of change in a positive, pro-active manner. Cassis presents positive ways to embrace change, ignite new potential and launch into success.

Catching a Second Wind
Motivation, management and building a winning team often become simple steps when the situation is viewed with an accurate perspective. John shares humorous stories and ideas on how to sit back, take a deep breath and "Catch a Second Wind" while turning life's challenges into opportunities.

Humor, Motivation and Mental Toughness
Modern-day demands often cloud the most important issues in our lives. As we inevitably lose perspective, we tend to sabotage our success and compromise our passion. John shares several key points for developing mental toughness with a positive attitude, helping to re-energize lives, careers and relationships.

The Art of Leadership
In this uplifting presentation, John provides insight on understanding leadership and effective communication, as well as the importance of change and adaptability for those in a leadership role. By practicing John's Art of Leadership, today's leaders can produce an environment that is driven by inspiration, motivation and joy-filled passion.
Why Book John Cassis?
Cassis provides fun, entertaining, and positive keynotes that revigorate the listener
He speaks about his time in the MLB, leadership, team building, and the importance faith
Fun. Uplifting. Humorous. That's how audiences describe John Cassis.

John received a Bachelor of Science degree from the University of Cincinnati. After three years of professional baseball, he earned a Masters of Divinity degree from Gordon Conwell Theological Seminary in Boston.

John has a diverse background. From 1973 to 1975, he directed a youth counseling center. In 1975, he became a minister of a small church in Colorado, where the congregation grew from 80 to 2,000 in five years. Then in 1980 as Director of Special Projects for World Relief, John accepted the challenge to motivate people across the country to help feed hungry children and their families. As a professional speaker, he encourages people to step into the arena and live their dreams. In keeping with his philosophy, he became a professional golfer in 2002.

He incorporates real life examples into his presentations by sharing his experiences as an athlete, minister, publisher, company founder, pre-game inspirational speaker for the Chicago Bears (1983-95), loving husband and father, and an extremely perceptive human being.

His genuine style helps audiences re-energize lives, careers and relationships… and see life from a new perspective.