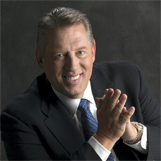 John Maxwell
Increasing Leadership Effectiveness
X
Program Descriptions
How to be a REAL Success
John shares the principles that shape every individual's success by focusing on Relationships, Equipping, Attitude and Leadership.

The 5 Levels of Leadership
John talks about one of his key leadership concepts, the 5 levels of leadership, and how every individual can increase their influence and their results by applying the 5 levels to their leadership walk.

The 21 Irrefutable Laws of Leadership
John shares his foundational truths of leadership through personal anecdotes and real-life examples from business, politics, sports, religion, and the military.

The 17 Indisputable Laws of Teamwork
John illustrates the laws of teamwork at work in every area of an individual's life and teaches key principles that enable teams to succeed.

Everyone Communicates Few Connect
John discusses the five connecting principles and the five connecting practices that help individuals influence change and get results.
The 360° Leader
John illustrates his belief about how individuals can lead up, down, and across regardless of a person's position in an organization.

Put Your Dream to the Test
John Maxwell guides his audience through a series of questions, that, when answered, help individuals make good decisions and maximize every moment to achieve their dreams.

Today Matters
John challenges every person to make today the most important day in an effort to build toward a better tomorrow with simple principles, tips, and how-tos that anyone can immediately apply.
As a cutting-edge entrepreneur, best-selling author, and dynamic speaker, Dr. John C. Maxwell has cultivated an extensive following among the most highly respected and influential business leaders across the globe. Reaching more than 350,000 people a year through speaking engagements alone, and over a million through resources, Dr. Maxwell is committed to developing leaders of excellence and integrity by providing the finest resources and training for personal and professional growth.

His philosophy that "everything rises and falls on leadership" motivates every endeavor to help individuals reach their highest potential, both in the home office and abroad through conferences, books, and audio and video resources. His passion has quickly caught on, and he has communicated his leadership principles to Fortune 500 companies, the United States Military Academy at West Point, and sports organizations such as the NCAA, the NBA, and the NFL.

Author of more than 30 books with more than 7 million copies sold, he works diligently to make leadership tools easily accessible and convenient for the busy business leader. Both a Time Warner and Thomas Nelson author, some of Maxwell's hottest titles include Thinking for a Change, Running With the Giants, Leadership 101, Attitude 101, The 21 Most Powerful Minutes in a Leader's Day, Failing Forward: Turning Your Failures into Stepping Stones for Success, The 21 Indispensable Qualities of a Leader, and The 21 Irrefutable Laws of Leadership. Many of his titles have landed on the best-seller list in noted publications such as the New York Times, Business Week, Wall Street Journal, USA Today, and CBA Marketplace. His book The 21 Irrefutable Laws of Leadership surpassed the 1,000,000 shipped/sold mark early in 2003.

John resides in Atlanta, Georgia with his wife Margaret.
Books