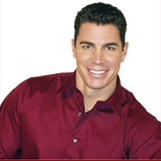 John Spencer Ellis
World Renowned Fitness Expert
Traveling From
California
X
Program Descriptions
7 Secrets to a New Body in 29 Days or Less
Travel for the Health-Minded Professional
I've been eating right and exercising but I look the same
Living Stronger
The Secret to Losing Those Last Few Pounds and Keeping Them Off
Toxic Soup
Each week, over one million people enjoy a wellness and personal development program created by John Spencer Ellis. His programs are implemented in the top resorts, spas and health clubs. John is the CEO of the National Exercise & Sports Trainers Association (NESTA), the Spencer Institute for Life Coaching, and the Get America Fit Foundation. He is the VP of Business Development for MyNutritionStore.com, and on the Advisory Boards of the National Health, Wellness and Prevention Congress, Exercise TV, Sleep Number Bed, Medical Wellness Association, Irvine Valley College, Life & Leisure TV and Health Journal Television. He is a Fellow of the National Board of Fitness Examiners, the author of How Badly Do You Want It? - Your Ultimate Guide to Optimal Fitness, The Compass, The Well Couple (2009), and a contributor to Power of Champions and Peak Vitality.

John is the former Fitness Editor for OC Flair magazine and created Adventure Boot Camp, the largest fitness boot camp system in the world. His TriActive America signature series of outdoor exercise equipment is used worldwide. John has been featured on ABC, NBC, CBS, PBS, FOX, FOX Sports, FOX Reality, SPIKE and ESPN. He is the fitness and lifestyle expert on Bravo's The Real Housewives of Orange County and Daybreak OC (KDOC news). John has also appeared on Starting Over, Life Moments and Camp Reality. He is the executive producer of the documentary The Compass. He hosts The Fit Show, Core 360 Personal Gym infomercial, PersonalTrainerTV.com, The OC Body, The Spencer Power Hour radio show, and the Ms. Fitness U.S.A. and World pageants. He stars in the workout DVDs Playground Boot Camp & Kung-Fu Fitness, created programs used by Cirque du Soleil, the U.S. Secret Service, Army, Navy, Air Force, Marines and Coast Guard, and consults the UFC (Ultimate Fighting Championships). John is featured in the movie Riches (2009). He was nominated for induction to the Fitness Hall of Fame.

John holds two bachelors degrees (business & health science), an MBA, and a doctorate in education. He also completed doctoral level studies in naturopathy. He holds fifteen certifications including massage therapy, plyometrics, self-defense, fitness kick boxing, fitness boxing, nutrition coaching, water fitness, exercise rehabilitation, golf conditioning, Pilates, personal training, clinical hypnotherapy, sports hypnosis, PACE circuit training and yoga. John is a member of the American Sleep Association, National Sleep Foundation, and the American Academy of Anti-aging Medicine. He holds a 2nd degree black belt in kung-fu, completed the Ironman triathlon, and finished 5th at the U.S. National Biathlon Championships. His medical training includes a license in radiological technology, a medical assisting certification, and training in McKenzie rehabilitation. He has specialized training in ropes course facilitation and corporate teambuilding. John was nominated for the California Community College Distinguished Alumni Award.