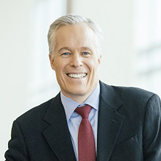 Joseph Grenny
The Social Scientist for Business Performance
X
Program Descriptions
Crucial Accountability: Tools for Resolving Violated Expectations and Broken Commitments
Imagine your colleague misses deadlines despite your repeated crucial conversations with him about the negative impact of his behavior? After each conversation, he commits to change. He has good intentions. And yet, day in and day out, he fails to deliver on time. So what's getting in the way? How do you hold him accountable in a manner that produces better results and improves your relationship?

Top performers are gifted at holding others accountable. They know how to diagnose the underlying causes behind broken promises, violated expectations, and bad behavior.

In this engaging speech, participants will learn a high-leverage skill set that lies at the heart of problem solving and execution. They'll learn how to:
Diagnose the Underlying Cause. Identify the underlying cause behind every problem using a six-source model of possible influences.
Make It Motivating. Motivate others without resorting to threats or power and instead, search for and explain natural consequences of noncompliance.
Make It Easy. Involve others in coming up with a solution to their ability barriers.
Stay Focused and Flexible. Skillfully attend to the problem of choice rather than getting sidetracked.

Influencer
In this fast-paced presentation based on the New York Times bestseller, and 2008 Business Book of the Year, Influencer: The Power to Change Anything, you will learn to create rapid and sustainable change.

10X Your Influence
Change efforts fail when leaders narrowly look for a single cause behind their persistent problems and then try to implement quick-fix solutions. On the other hand, influencers succeed because they understand that most problems are fed not by a single cause, but by a conspiracy of causes. They merge multiple sources of influence into a strategy that can overpower even the most persistent and resistant problems. Learn a step-by-step strategy for exponentially increasing your power to change your greatest and most persistent challenges.

Change Anything
The science delivered in this hands-on presentation will empower those who believe and understand that changing their own behavior is the most reliable path to achieving their personal and professional goals.
Joseph Grenny is a four-time New York Times bestselling author, dynamic keynote speaker, and leading social scientist for business performance. For thirty years, Joseph has delivered engaging keynotes at major conferences including the HSM World Business Forum at Radio City Music Hall. Joseph's work has been translated into 28 languages, is available in 36 countries, and has generated results for 300 of the Fortune 500.

Dynamic Keynote Speaker
Joseph has shared the stage with General Colin Powell, Jack Welch, Jim Collins, Daniel Pink, Patrick Lencioni, and Brené Brown at some of the world's premier leadership conferences and organizations including:


HSMWorldBusinessForum
Willow Creek Global Leadership Summit
American Society of Training and Development
American Bankers Association

Bestselling Author
Joseph is the coauthor of four immediate New York Times bestsellers with more than three million copies in print: Crucial Conversations, Influencer, Crucial Accountability, and Change Anything. He has contributed regularly to BusinessWeek and Forbes; appeared on The Today Show, CNN, Bloomberg, and Fox Business News; and been cited in the Wall Street Journal, New York Times, USA Today, Los Angeles Times, and Washington Post.

Business Social Scientist
For the past thirty years, Joseph has conducted social science research with the goal to help leaders and organizations achieve new levels of performance. Specifically, he has focused on human behavior—the underlying written and unwritten rules that shape what employees do every day.

A protégé of Albert Bandura, the world's most influential and greatest living psychologist, Joseph's internationally published research led to the development of his four books as well as four award-winning training solutions of the same titles, which have helped more than one million people and 300 of the Fortune 500 companies in 36 countries change human behavior.
Books