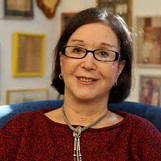 Judith Viorst
Best-selling Author and Magazine Columnist
Traveling From
District of Columbia
X
Program Descriptions
HOW TO HAVE A HAPPIER LATE LIFE
"You don't have to be nearing ninety to learn HOW TO HAVE A HAPPIER LATE LIFE, a humorous/serious talk--interspersed with relevant poems from my new book, NEARING NINETY AND OTHER COMEDIES OF LATE LIFE. I discuss a variety of attitudes and activities that could help make our so-called golden years better, more interesting, and--yes--happier."

I'm Too Young To Be Seventy
Viorst tackles the ins and outs of becoming a septuagenarian with wry good humor. She explores, among the many other issues of this stage of life, the state of our sex lives and teeth, how we can stay married though thermostatically incompatible, and the joys of grandparenthood and shopping. Advice and reflections on marriage, milestones, and middle-aged children. For Peace of Mind, Resign as General Manager of the Universe Based on her new book, Imperfect Control, this talk explores how much control we have, or should have over ourselves, our mates, our adult children, and over the world around us.

Parenting Our Children from Newborn to Thirty-Year Old and Beyond
A funny and touching trip through all the stages of parenthood- the joys, messes, aggravations, heartbreaks, the breaking away, the passionate pride, and the "did I do something wrong?", the way our children transform our lives and the shocking realization that there's no such thing as a RETIRED parent.

Necessary Losses
Based on her New York Times' bestselling book, this talk shows that the inevitable losses of our life can lead to hope, growth, and change.

Taking Control of Our Death
Mrs. Viorst suggests that by living our life with knowledge of its finitude and by imagining now what kind of person we want to be at the end of our life, we will make wiser choices and have fewer regrets.

Suddenly Sixty
A funny and touching exploration of the issues those at, or around, this age must deal with: our bodies decline, our husbands retire, doctors, and the age of our kids.
Why Book Judith Viorst?


She is a multi-faceted storyteller who leaves audiences captivated with her thoughts on life.
She is the author of 21 books for children and has contributed artistic works across the literary spectrum with her many books for children and adults alike.
Judith Viorst was born and raised in New Jersey. She received a B.A. in history from Rutgers University, and in 1981, after six years of study, she graduated from the Washington Psychoanalytic Institute.
Mrs. Viorst is the author of nine collections of poems for adults: The Village Square; It's Hard to Be Hip Over Thirty and Other Tragedies of Married Life; People and Other Aggravations; How Did I Get to Be 40 and Other Atrocities; When Did I Stop Being 20 and Other Injustices; Forever Fifty and Other Negotiations; Suddenly Sixty and Other Shocks of Later Life; I'm Too Young to Be Seventy and Other Delusions, and Unexpectedly Eighty and Other Adaptations. She has also written You're Officially a Grown-Up: The Graduate's Guide to Freedom, Responsibility, Happiness and Personal Hygiene; a novel, Murdering Mr. Monti, and five non-fiction books: Yes, Married; Love & Guilt & The Meaning of Life, Etc.; Necessary Losses, which was on The New York Times bestseller list for almost two years; its companion volume, Imperfect Control; Grown-Up Marriage; and Alexander and the Wonderful, Marvelous, Excellent, Terrific Ninety Day: An Almost Completely Honest Account of What Happened to Our Family When Our Youngest Son, His Wife, Their Baby, Their Toddler, and Their Five-Year-Old Came to Live with Us for Three Months. In addition she wrote a column in Redbook for over twenty-five years.
Mrs. Viorst is the author of twenty one books for children: Sunday Morning; I'll Fix Anthony; Try It Again, Sam; Alexander and the Terrible, Horrible, No Good, Very Bad Day (which has sold over four million copies and been inducted into the Picture Book Hall of Fame), The Tenth Good Thing About Barney; My Mama Says There Aren't Any Zombies, Ghosts, Vampires, Creatures, Demons, Monsters, Fiends, Goblins, or Things; Rosie and Michael; Alexander, Who Used to Be Rich Last Sunday; If I Were In Charge of The World and Other Worries; The Good-bye Book; Earrings!; The Alphabet From Z to A; Sad Underwear and Other Complications; Alexander, Who's Not (Do You Hear Me? I Mean It!) Going to Move; Absolutely, Positively Alexander, a collection of the three Alexander stories; Super-Completely and Totally the Messiest; Just in Case; Nobody Here But Me, Lulu and the Brontosaurus, Lulu Walks the Dogs and Lulu's Mysterious Mission. Two other children's books, Alexander, Who's Trying His Best to Be the Best Boy Ever and And Two Boys Booed are scheduled for publication in late 2014.
Many of her books, for adults as well as for children, have been published abroad. Several of her children's books have been made into short films. A movie based on Alexander and the Terrible, Horrible, No Good, Very Bad Day will be released by Disney in the fall of 2014 starring Steve Carell and Jennifer Garner.
Mrs. Viorst lectures widely on a variety of topics, ranging from loss and growth to children's literature and the subject of control. Her poetry has been read in performance by Anne Bancroft, Alfred Lunt and Lynn Fontaine, Ann Jackson and Eli Wallach. In addition, she has written, with composer Shelley Markham, the book and lyrics for four musicals- Love and Shrimp, Alexander and the Terrible, Horrible, No Good Very Bad Day, Alexander, Who's Not Not Not Not Not Not Going To Move, and Lulu and the Brontosaurus.
Mrs. Viorst resides in Washington, DC , with her husband, Milton, who is the author of several critically acclaimed political books. They have three sons, Anthony, Nicholas and Alexander, and seven grandchildren.
Books