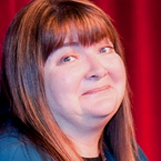 Juli Burney
Award Winning Teacher and Entertainer
X
Program Descriptions
Gender Benders
This presentation contends specifically with gender communication and how to understand and avoid Common Communication Collisions. Juli is able to help us accept and appreciate our differences with good humor and teaches us that when approached in a positive manner, gender teams can accomplish many things.

You're A Winner
Everyone encourages us to have good self esteem, but HOW?! With the growing pressures put upon the work-force today, it is important that your employees feel good about themselves. A happy employee is a productive employee. Being able to like and laugh at ourselves combats fatigueand alleviates burnout. It's healthy - a little "internal jogging" anyone?

Staying Alive: Those Who Laugh, Last
Often people have said that there is no room for HUMOR in the workplace. However, having good humor means having a positive attitude toward situations. Everyone has a sense of humor, they just don't use it to their potential. It shows that you can remain cool under pressure and keep problems in perspective. Stress is a perception of an event. You may nor be in control of the events happening around you, but you can control your response to those events. This is when a sense of humor is essential in the workplace.

Break the Pattern
Patterns of negative thinking and negative communication can create inefficiency in our personal and professional lives. Learn how to change the negative patterns of communication. Why, it's as easy as going on a diet (argh!).

Getting to the Heart of the Matter
A workshop on the importance of understanding emotional intelligence in ourselves and in others, to enhance our abilities to work together.
Whether she is presenting a motivational speech or headlining a comedy club, Juli Burney is a well seasoned performer!

Multiple award winning teacher, humorist and author, Juli makes an amazing connection with her audiences. She is able to entertain with the ability of a headlining comedian while either motivating or instructing with the ease of a nationally recognized speaker. Juli has been honored by her state as Artist of the Year because of her ability to help improve people's lives through humor and effective use of communication tools.

Juli has worked in all 48 continental United States and Canada, and has been commissioned by a variety of associations, from the National Endowment of the Arts to Fortune 500 companies, to develop training programs that stick. She has filmed for Showtime and HBO, along with making several guest appearances on radio and television programs. Her humor is insightful, delightful, universal, and enlightening whichever topic she presents.

Quote: "She is so likable, bright, quick and witty, has an original humor, has great timing, and on top of it all is very funny. She makes you think, and she makes you feel good."