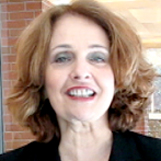 Julia Poulos
Savvy Presentations in The Age of Show Business
Traveling From
New Jersey
Julia Poulos is Principal of "All the World's a Stage," a human resource development company specializing in effective speaking workshops, management and professional development seminars, and personalized coaching. For over twenty years Ms. Poulos has trained thousands of people in the corporate, public, and not-for-profit sectors.

As part of New Jersey's Statewide Initiative for Prohibiting Discrimination, Harassment or Hostile Environments in the Workplace, Julia is a Project Consultant for the delivery of, "Prevention of Sexual Harassment" which is a required seminar for all New Jersey State Managers and Supervisors. She also designed and delivered a train-the trainer program for over one hundred managers, training specialists and consultants who deliver this program.

For the Bank of New York, Ms. Poulos has written and delivered major workshops for bank officers: "Effective Presentations for Sales Professionals"; "Interviewing Skills for Information Technology Managers"; "Effective Interviewing Skills for Managers". Julia honed her presentation skills for over five years as a Business Education Speaker for Dun & Bradstreet and presented seminars, nationwide, for 8,000 participants annually.

At Merrill Lynch's international training center in her position as Senior Management Development Consultant, Ms. Poulos pioneered innovative management development programs for national and international operations managers. As Director of Sales Development for Training House, Inc. in Princeton, New Jersey. Julia developed and serviced Fortune 500 accounts.

One of Julia's greatest accomplishments was the development of the Certified Public Management Program for the state of New Jersey under the auspices of former Governor Thomas Kean. This is a 90-hour Management Development Program, that has trained over 12,000 middle managers.

After completing BA in Communications and Theatre Arts, Julia returned to the east coast to do graduate work in Theatre Arts at Penn State University. Theatrical credits include: Lady Macbeth; Portia in "Merchant of Venice"; Eleanor in "Lion in Winter." Ms. Poulos holds additional credits and credentials in business management and human resources from various New Jersey universities and human resource consulting firms including: Blessing White, DDI, and Psychological Associates. She has been a member of American Society for Training and Development, and the Society for Human Resources Management.