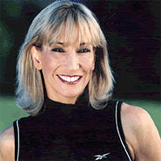 Traveling From
Massachusetts
X
Program Descriptions
Fitopia™ - A Woman's Quest Towards Fitness and Wellness
Frugal Fitness™ - 100 Ways to Get Fit for Next to Nothing!
Getting Your Life Back in Balance - Beginning with Mind-Body Fitness and Wellness
Green Fitness and Wellness™ - Take Care of Your Body and the Environment with this Program
Stress-Down for Work!
Helping Your Overweight Child
Julia E. Sweet, known as "Fitness Mom", began her interest in fitness as a toddler doing the Royal Canadian Air Force Exercises on the living room floor with her athletic mother. As a pre-teen she began training and competing in gymnastics with Olympic Coach, Dr. Joseph L. Massimo. She continued her career at the University of Massachusetts (home of national gymnastics champions), where Julia received her Bachelors of Science degree in Exercise Science. After college, Julia held the position of exercise physiologist at a major corporate fitness center and simultaneously was a cheerleader for the New England Patriots.

When daughter, Marja, was three years old, both began competing as "Team Sweet" in sport aerobics. They performed and competed in various AAU and FISAA championships throughout the United States and overseas (Italy, Canada, Puerto Rico, South Africa). Julia received titles of national and world aerobics champion and Marja became the youngest competitor in the world and won a gold medal at the AAU Jr. Olympic Championships at age seven (competing in the nine to eleven age group). Both received awards and recognition including NEAAU "Athlete of the Year", Power Bar Team Elite, Shaklee Premiere Performers, Sports Illustrated "Faces in the Crowd", Governor of Massachusetts Citation of Outstanding Achievement.

Julia compiled many of the ideas that she used to train her daughter, Marja, and added exercises she did with her infant son, Noah, in writing her book, "365 Activities for Fitness, Food, and Fun for the Whole Family" (published by Contemporary/McGraw-Hill). The book received the Children's Better Health Institute "seal of approval".

Her professional certifications include aerobics instructor, personal trainer, prenatal/post partum exercise, children's fitness, senior fitness, weight training, and cardio-kickboxing. She has her Black Belt in Tae Kwon Do.

Julia hosted and created "Fitness Mom®", a television news segment which aired on NBC 10 WJAR. The Fitness Mom® team is in the process of working on syndication. During the summer of 2004, SC Johnson Company retained Julia as their national spokes person for their outdoor exercise campaign, "Get Out with OFF". Currently, she does a guest segment on the Pete and Brenda Morning Show in Portland, OR 104.1 KFIS and writes a column for the President's Challenge "Fitness is Fun" newsletter (Presidents Council on Physical Fitness and Sports).

One of Julia's favorite "projects" is working with the children who attend her studio's after-school program, "Muscles and Minds™". Children receive an hour of daily fitness, sports, or TaeKwonDo training, a healthy snack (certified by a registered dietician), and then an hour of enrichment activities - all designed to balance their lives, fostering a love of learning through "applied academics", development of a strong, vibrant, and healthy body - and securing their self-esteem. Julia will be franchising her program in the future.