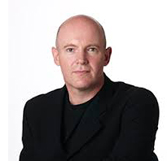 Julian Treasure
Branding Strategist
X
Program Descriptions
How to speak so that people want to listen
Have you ever felt like you're talking, but nobody is listening? In this transformational talk, Julian demonstrates the how-to's of powerful speaking — from some handy vocal exercises to tips on how to speak with empathy. Plus, this ve-time TED speaker can include a masterclass in public speaking and effective presentations.

Conscious listening in a fast-paced world
We are losing our listening: The amount of time we spend listening has halved in the last century. As a result, companies and institutions are losing billions of dollars annually through ineffective communication - and our relationships and health are also suffering. Julian shares practical ways to re-tune your ears and improve everything from the effectiveness of your company meetings to your personal relationships.

Sound Business
Julian demonstrates how companies can use sound to increase sales and brand asset value. As founder of one of the world's leading audio branding companies, Julian uses case studies to reveal the most damaging sonic mistakes and showcase the enormous potential of sound in business.

The four ways sound affects us
Julian aims to transform your relationship with sound and the senses. He demonstrates how sound affects everything from our heartrate, to our hormones, to our behaviour, and reveals how we can improve the sound around us for healthier, happier lives.

Designing with our ears
Did you know that noise can degrade productivity by up to 66%? Julian explores the hidden "aural architecture" of of ces, hospitals and schools. He reveals common mistakes and practical solutions to achieve happiness, wellbeing and productivity in the build environment.
Why Book Julian Treasure?


Julian studies sound and uses his work in transforming individual health, productivity and relationships through mastery of sound.
He uses his unique blend of accomplished stage technique and powerful visuals to show audiences how best to use sound in business.
Julian Treasure is a speaker, CEO, and author of the books How to be Heard and Sound Business. For the past twenty years, he has pioneered work in business sound and personal communication training.

Following a career in publishing and marketing, Julian founded The Sound Agency. The agency advises some of the world's brands on how to use sound and music effectively. The outcomes from their work - like happier customers and lower crime rates - have made headlines worldwide. The company has proved that good sound really is good business.

From developing communication strategies for brands, the focus of Julian's recent work has moved on to personal communication skills. His unique conscious listening and speaking techniques have given rise to a book, ve acclaimed TED talks, online courses, and international speeches and workshops. Julian's work has been featured by the likes of TIME Magazine, The Economist, Vogue, GQ, The BBC, NPR, and CBS.