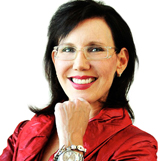 Karen Post
Branding Expert
X
Program Descriptions
When your number is called, will your brand be ready?
Based on Karen's new book Brand Turnaround, this program addresses brand shake ups, scandals and unfortunate events impacting the health of a brand. The content covers preparation before a brand crisis hits, how to handle unexpected brand bumps and ways to build brand equity to best protect your brand from any negative situation.

Reinvention-U, your brand, your destiny
When change calls, pick up your smart phone!
Time to reinvent? Jump-start your business or your career? Today's economies are forcing businesses and professionals to re- evaluate where they are, what they are doing and where they are headed. This program helps the audience understand the art, science and act of reinvention, so they can transform into a new career, brand or offering.

Odd fish finish first
Distinguishing your brand from the competition
Today's marketplace is a cluttered, busy mess. The average consumer is inundated with marketing noise, sales pitches, commercials and endless choices in every category. So how do great brands win this fierce battle? They own a unique place in the minds of their market by being distinct, offering brand attributes unlike the rest and consistently communicating these uncommon and compelling stories in all of their touchpoints.

Brain Tattoos, Bigger Better Branding.
This program helps companies and associations embrace the branding process so they can create new brands and/or effectively execute existing ones. This content covers the basics of branding and current trends in reaching diverse and segmented markets. The program can be delivered in a keynote format or in an interactive workshop.

A to Z Creativity, 26 Ways to the Next Big Idea.
Most great brands start with and uphold bold creative ideas. They go where competitors fear and create their own markets, new products and different ways to do things. Where do these big ideas come from? The human brain, which --like a competitive horse–-he has so much potential if it's trained and exercised regularly. This creative booster introduces fun and effective methods to increase you and your team's creative output. This program can be delivered in a keynote format or in an interactive workshop.

Born-again Brands.
The rebrand of organizations, persons or products.
Some brands are timeless: Tiffany's, Kleenex, even Coca-Cola. They're classic icons in our minds. They've stood the test of time. We know what they are and what they stand for. Their brand story is clear and consistent in any day of any decade.

Other brands are tired and don't age as well. Some are born bad and just get worse. Some start off good and then, over time, get sloppy and lose focus. Others are innocent victims of our fast-changing world. Whatever the case, even shaky brands can become "born-again": a brand with a renewed spirit and a relevant connection to the market. This program takes the audience through the entire rebrand process. It is delivered in a keynote format or in an interactive workshop.

Brandtown, USA. Become a destination magnet.
This program helps associations and public and private destinations embrace the branding of places process so they can create memorable brands that attract people to their space. The content covers the downside of committee-driven compromise and the upside of leadership, achieving big goals on a small budget, and new trends in reaching the market. This program can be delivered in a keynote format or in an interactive workshop.

The Brand Inside. Attracting and keeping the right talent.
This program shows you how to attract and keep the right talent with a strong inside brand. Content focuses on building the internal or employer brand. When companies merge, downsize, experience rapid growth or any big change, the inside brand is essential. In today's competitive market, having a desirable corporate brand is the key to staff recruitment, retention and organizational success.

Brand Moi™: Make your mark. Achieve your dreams.
Personal Branding for Professionals.
The Brand Moi™ presentation dissects "The Brand" for individuals, business and community leaders and sales and marketing professionals. It provokes compelling questions that can cause action and stimulates new, creative ways to maximize your personal mark. This program is designed to help people achieve their goals and dreams with a personal brand. The program includes both online (social media, twitter and email etiquette) along with off line strategies to build a strong personal impression in the minds of your market.

Branding on a Heart String. Creating a nonprofit Brand.
The nonprofit sector is struggling. Giving is down and the need is up. Marketing and branding are more important than ever in this highly competitive environment. This program provides practical, big ideas to brand a cause, a program and/or an organization. If your resources are limited, your volunteers are tired and your mission is great, this program is for you. Attendees will learn story telling, the marketing and how to leverage social media.

Brain Tattooing with Social Media. How to build and manage an online business brand.
Social media has had a profound affect on business and branding. Billions of people are actively involved in social media. Gone are the days when only teenagers occupied this online world. Today savvy business owners; entrepreneurs and professionals, are benefiting from these Web phenomena. Karen Post, a marketing expert with 30 years' experience, takes the myths and intimidation out of this new marketplace. She delivers simple ideas to tap into this new frontier of opportunity to grow your business. This program covers a social media "overview" and "how-to"; blogging to build your brand, tweeting for success, and reputation management. It can be geared to individuals or company needs. She covers managing your brand online, business development publicity leveraging Facebook, Twitter, LinkedIn and other popular sites.
Karen Post, A.K.A. The Branding Diva®
Karen Post earned the title, The Branding Diva - by being a little crazy - crazy smart - crazy creative and crazy effective. A no-nonsense, tell it like it is, expert. She'll show you how to kick up your business and your bottom line with a distinct brand. Karen is the author of Brand Turnaround and Brain Tattoos and is regularly featured in international news outlets, such as Fox Business, the New York Times, the Wall Street Journal and Entrepreneur Magazine.
Not only is she a branding practitioner, she's a serial entrepreneur too. At 22, she founded an award winning advertising agency that made her clients millions. In 1994, she started a successful litigation communication company. In 1999, she established an Internet start-up she'd like to forget. Her life and business journey has included ups and downs, victories and defeats all adding to her success and unique experience-rich perspective.
Throughout her career, her work has benefited diverse industries, from start-ups and non-profits to Fortune 500 companies that include ACNielsen, Celanese, Choice International, Cox Cable and Media, Saudi Arabian Airlines, Chevron, Johnson & Johnson, Bank of America, Xerox, Pepsi, and Procter & Gamble, along with many emerging businesses, trade associations, professional athletes, entertainers and politicians.