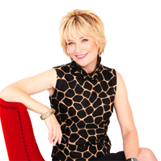 Kate White
Former Editor-In-Chief of Cosmopolitan & New York Times Bestselling Author
X
Program Descriptions
Go Big or Go Home: Breakout Success Strategies For Gutsy Women
There are fabulous opportunities for women in the workplace today and yet many female executives and emerging leaders still face hurdles—external and internal. They are stymied at times by the system and but also by their own perception of themselves. As the author of several groundbreaking books on women and success, as well as the former editor-in-chief of Cosmopolitan, Kate offers a keynote on success strategies geared for a female audience. You will learn:


How to generate big, bold, game-changing ideas that will help set you apart from the pack.
How to ask for the money, promotions and opportunities you deserve
How to let go of "good-girl" tendencies that may be holding you back and unlock your inner leadership skills
How to be the unrelenting architect of your career
How to savor your success and let it enrich your personal life rather than detract from it.

Kate has spoken at women's conferences, business luncheons, and leadership forums across the country, offering practical hard-hitting strategies for success in her often irreverent, upbeat style.

Gutsy Strategies For Building Bold Brands
In this keynote presentation, Kate teaches leaders how she ran and grew the #1 selling magazine brand in the country for 14 years. This isn't leadership theory. These are Kate's stories of what she actually did and the bold moves that any leader in any business can use to go to the next level—at a time when good enough won't cut it anymore.

These are takeaway strategies that you can use immediately to improve performance and create growth.

You will learn…


How to develop big, bold, break-through concepts for your company
How to fine-tune the unique selling proposition of your business and at the same time develop "growth pony" strategies for future success
How to embrace both hard and soft data—even when it's scary as hell–and use it to propel your business to the next level
How to build a team that will embrace change and execute it
How to drain the swamp as you slay the alligators

Kate loves working with emerging leaders and young executives, and her sense of fun and often irreverent style help drive home her lessons in business success
Kate White is an internationally known expert on leadership, work and success, and a New York Times bestselling author of several influential books on those topics. Her advice is based on her career running five major U.S. magazines. For 14 years she was the Editor-in-Chief of Cosmopolitan, one of the most successful magazine brands in the world.

Under White's leadership, Cosmo's guaranteed circulation grew by 30 percent. It became the number one selling magazine on newsstands and remained so during her entire tenure. International editions doubled to a total of 64. She also oversaw all aspects of the brand, including Cosmo Books (over a million sold), Cosmo Radio, Cosmopolitan.com, and a number of highly successful digital apps.

White regularly speaks at conferences, businesses and universities around the country, and she has appeared frequently on television, including The Today Show and CNN's Quest Means Business. Her articles about success and leadership have been published on a wide variety of sites, including Forbes and HBR.com. Her honors include the Matrix Award for Outstanding Achievement in the Communications Industry and the Woodhull Institute Award for Ethical Leadership. She was named one of the 15 Best Career Experts to Follow on Twitter by CEOworld.com.

Kate is the author of several business books, including most recently, I Shouldn't Be Telling You This: How to Ask for the Money, Snag the Promotion and Create the Career You Deserve and Why Good Girls Don't Get Ahead but Gutsy Girls Do. She is also the New York Times best-selling author of ten suspense novels, which have been published in 13 languages. Her latest, The Wrong Man, was just released.

She is a graduate of the first co-educational at Union College, and in 2013 attended the Women's Leadership Forum at the Harvard Business School Executive Education program.