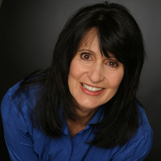 Kathy Buckley
America's Hearing Impaired Comedienne
Traveling From
California
X
Program Descriptions
NO LABELS, NO LIMITS ...unlock your potential, by taking your labels off
Kathy talks about the labels that society puts on us, and the labels we also put on ourselves. She addresses the fact that we subscribe to the labels that society places on us, and they can even modify our own self-awareness. Kathy inspires her audience to remove the labels that society has placed on them, as well as those they have placed on themselves; empowering them to make a change, become self-confident, self-aware, and empowering self-growth. Kathy's message will free you from the limiting labels that society places on you, as well as those labels you put on yourself; awakening the unlimited potential inside each of us.

MAKING YOUR WORDS YOUR BEST FRIEND ...be conscious of your language
Kathy shows us how to make our words our best friends. She promotes listening to your vocabulary, finding the meaning of your words; and, Kathy demonstrates this with her amazing anecdotes. Understanding your words, and those of others, will help you understand the importance of respect, not only for yourself, but for those around you.

Your vocabulary can be your best friend, or your worst enemy. How you speak and what you say controls your attitude and the aura your radiate to the world. Kathy notes that most of our vocabulary and how we speak comes form our environment; our parents, our peers, and what we are exposed to. However, unlike a genetic trait, your vocabulary can be changed. It takes a conscious effort on your part, but you can change the way you feel by changing the way you speak. Kathy knows this all too well; spending the begining of her life without speech entirely.

Change your vocabulary to change your life. Remove negative words, and even neutral words for positive ones. Speaking positively will create a positive attitude inside you, which will then spread to others. Remember to be respectful, remember to say please and thank you, remember to be polite, and remember chivalry is not dead. These simple things can change your life, and the lives of those that you touch.

Simply putting these little things into practice will make your life more positive, and spread positivity to others. Choose to choose your words wisely and choose to change your life!

THE GIFT OF CHOICE ...choose wisely
Kathy talks about the wonderful gift of choice, recognizing opportunities, and making wise choices. By opening your eyes to the opportunities presented in your life, and making the choice to become empowered to make decisions, when the choices are presented. Kathy notes that 90% of the negativity in our lives, is directly created by negative choices we make. Kathy's message shows us how to accept the gift of choice, and how to choose wisely. Her unique perspective will have you counting your blessings on a regular basis!

Choice is a gift; the gift of freewill. Kathy was in a terrible accident when she was just out of highschool. While she was sunbathing on a beech a lifeguard ran her over in their Jeep. Kathy was severly injured, as the Jeep ran over her face and chest; she was pronounced dead.

That day, laying on the beech, Kathy was given the gift of choice. After being run over she made the choice to fight for her life, and live her life to the fullest. You can choose to live your life in a way that makes you happy, and choose to live your life in a way that supports and inspires others.

THE GIFT OF FORGIVENESS ...a gift you give yourself
Kathy addresses forgiveness, and the healing qualities it provides, mostly to the person doing the forgiving. Forgiveness is a gift you give yourself, freeing you of the burden that comes along with holding onto transgressions committed toward you. Kathy's message uncovers the true meaning of forgiveness, and how it can set you free!

Forgiveness is a gift, a gift you give yourself. Holding onto trangressions that others have made against you hurts you exponentially more than the original trangression; that which you have not forgiven. Holding onto discontent, and holding grudges against others does not hurt those that you will not forgive, it hurts you. Through forgiveness you will free yourself from the burdens that go along with holding onto, and reliving bad things that have happend to you.

Free yourself from the weight of discontent; give yourself the gift of forgiveness.
Gifted comedienne, award-winning actress, accomplished author, and renowned inspirational speaker Kathy Buckley is a force like no other. Billed as " America's First Hearing Impaired Comedienne", Kathy Buckley is also a five-time American Comedy Award Nominee as Best Stand-Up Female Comedienne. As an actress, she is known for her guest starring roles on shows such as Touched by an Angel, and for her critically acclaimed one woman Off-Broadway show, Don't Buck with Me/Now Hear This!. As a motivational speaker, she inspires hundreds of thousands of people around the world, sharing her story of overcoming some of the most difficult obstacles one can imagine in life, and how she met those challenges with dignity, courage, and laughter.

Kathy's book, If You Could Hear What I See, will have you laughing and crying as you experience the amazing story of her life. She has received thousands of letters and emails of thanks and praise, regarding both her book and her original PBS special, No Labels, No Limits! She was awarded the CINE Golden Eagle Award as the writer and executive producer of the special, and the Media Access Award for Outstanding Television Special. Her highly acclaimed autobiographical theatre play, Now Hear This! had its Off-Broadway premiere at New York's Lamb's Theatre, and not only brought the comic actress a legion of faithful new fans, but a wealth of critical praise from New York media. Little wonder, since the production (originally titled Don't Buck With Me!), first opened in Los Angeles at Hollywood's legendary Tamarind Theatre, with both Kathy and the show winning the distinguished Los Angeles Theater Ovation Award for Best Writing of a World Premiere Play or Musical and the Los Angeles entertainment industry's coveted Media Access Award as Best Play of the Year.

Success, however, in the theater or any other medium, was far from mind the first time Kathy stood the world of comedy on its ear. On a dare from a friend, she entered a comedy contest called, "Stand-up Comic Take a Stand", in 1988. She was nervous. Not because it was her first time performing comedy on a stage, or even the fact that she couldn't hear the audience response except by vibration from the stage floor. What made her nervous was discovering that she was competing against comedians who had been in the business for years.

But, Kathy forged ahead, easily winning fourth place out of over 80 comedians, and soon began touring the U.S., playing major comedy venues like Caroline's (New York City), Catch a Rising Star (Las Vegas, Reno), The Improv (West Hollywood), The Ice House (Pasadena), The Comedy Store (Hollywood), The Laugh Factory (Hollywood), and many others. In record time, she became one of the most popular comediennes in the country with material based on, among others things, her hearing loss. That impairment, however, is only one of the many hurdles Kathy has encountered in her life. Her poor performance in second grade landed her in a school for mentally and physically impaired children. It took school administrators, psychologists, and audiologists nearly a year to discover it was just a hearing loss and not a lack of mental acuity that was impeding her speech and language development. Today, Kathy shakes her head as she quips to amazed audiences, "... And they called me slow?"

During her late teens, Kathy's life was interrupted when she was run over by a jeep while sunbathing on a beach. As a result, she experienced intermitted paralysis in her legs. Her recovery took almost five years. Then, just six years later, she was diagnosed with cervical cancer.

Undaunted, she has turned roadblocks into springboards, using her personal experience as launching pads for humor and the education of others.

She was selected from among hundreds of performers to showcase her talents at The National Association for Campus Activities Convention. That appearance made her a favorite of the college campus circuit.

Kathy's popular appeal, unique persona, and refreshing sense of humor also attracted the attention of high profile comedy television shows, entertainment news programs, and talk shows. She has appeared on such programs as The Tonight Show, The Today Show, Good Morning America, CBS This Morning, Entertainment Tonight, Extra, Inside Edition, Turner Entertainment Report, CNN'S Show Biz Today, Real Life, and Geraldo. She has been featured in several national magazines, including People as one of their most touching stories of 1997. She has performed on shows such as Stand-Up Spotlight (VH-1), Comic Strip Live (FOX), Evening at the Improv (A&E), and Caroline's Comedy Hour (A&E), to name just a few. She also served as celebrity guest host for Fox Television Special, Smart Kids, and made a cameo appearance in the ABC Television Movie of the Week, Breaking Free. She was featured in the HBO Television Special, "Women of the Night", shot on location at the U.S. Comedy Festival in Aspen, Colorado. She included in the E! Entertainment Television Special, The World's Most Intriguing Women. Kathy was also the focus of I Can Hear the Laughter, an Emmy award-winning documentary.

Although she regularly receives national media attention, Kathy is more than just a popular comic. Her humor has a higher purpose. "My comedy disarms people," says Kathy. "I love to make people laugh, but I love it even more if I can teach them something at the same time."

She backs her philosophy by tirelessly performing on behalf of nonprofit and educational organizations throughout the Unites States. She serves as the national spokesperson for No Limits, a non-profit organization, theater group, and school which provides educational programs and accessibility for deaf and hard of hearing children.

Among her many honors, Kathy has received the Woman of The Year Award from the Oralingua School, American Hero Award from the City of Hope as their role model of the year, the Toastmasters International Communication and Leadership Award, the Dole Foundation Media Awareness Award for her dedication to all people with disabilities, the National Council on Communicative Disorders Individual Achievement Award, and the Hear Now Help America Hear award for her commitment to children.

She was also recognized by the U.S. Air Force and U.S. Army for outstanding efforts toward disability employment awareness.

She is a key motivational speaker for Anthony Robbins' Life Mastery Classes and works to entertain and enlighten people of all ages, but her heart belongs to children. "Every child deserves to have a real childhood," Kathy asserts. "And they should have healthy role models to show them that people do care about them deeply." Kathy speaks to the child in all of us.

Whether performing in a comedy club, appearing on television, speaking publicly, teaching at camps for children and teens, or appearing in any number of other settings, Kathy Buckley bears her message that anything can be achieved when the heart and the mind work together.