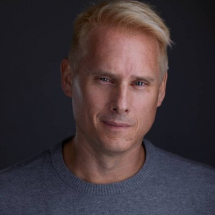 Ken Rutkowski
Talk Show Host, Tech and Business Futurist, Blockchain and Crypto Currencies Expert
Ken is the creator and co-founder of the #1 Business radio talk show in America, "Business Rockstars". He is the host and creator of a new show called "Voice of Disruption", the insider's guide to global disruptive leaders.

Ken also has a new 2018 weekly Podcast about Blockchain and Crypto Currencies called "Coin DMZ", prominently featured on iTunes and Spotify Podcasts, with over 100,000 listeners per episode. On Coin DMZ, Ken discusses the week's latest people, politics and tech in Crypto, Blockchain, and Digital Currencies with industry leaders.

Ken was one of the very first in radio to do a podcast, when he worked with Mark Cuban in the 90's. He has interviewed many thousands of CEOs and Founders of companies and knows the relevant and impactful business trends of now and the future – perhaps better than anyone.

Ken is called the connective tissue within the business landscape. He is a master at taking great ideas and turn them into multi-million dollar businesses. Among other things, Ken teaches entrepreneurs the secrets of how to attain real positioning for their business on social media, radio, TV, and print. Ken's broad range of knowledge across many industries, coming from having interviewed thousands of the top Executives, CEOs, and Changemakers on the planet, as well as investing in many successful businesses himself, enables him to customize presentations for each audience with specific insider research, technology and industry trends that bring them real-time ROI and actionables that they can immediately take with them into their business. He also shows businesses what customers want, need, and are asking for today, and most importantly how to connect with and engage prospective and existing customers.