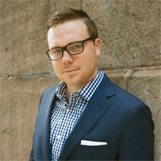 Kevin Roose
Business Writer at New York Magazine
Traveling From
California
I'm a writer at New York Magazine, where I cover business and technology for the magazine and the Daily Intelligencer blog.

Before that, I worked at The New York Times, where I covered Wall Street and the culture of finance for the paper and for DealBook, the Times' financial news site.

My latest book, Young Money, about the world of young Wall Street bankers, debuted on the New York Times bestseller list. My last book, The Unlikely Disciple, a memoir of the semester I spent undercover at Jerry Falwell's ultra-evangelical Liberty University, was published in 2009.

In previous lives, I've worked as a tennis-camp counselor, a juice bar barista, and a Biblical slave for a bestselling author. (Long story.) I've also written for magazines like GQ, Esquire, ESPN: The Magazine, and SPIN. I live in Berkeley, California.
Books

Young Money