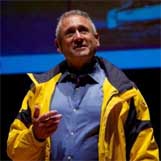 Larry Jacobson
Leadership Lessons Learned at Sea
Traveling From
California
X
Program Descriptions
Make Passion Your Priority
The hottest topic going. From TEDx talks to corporate meetings, making passion your priority is now Larry Jacobson's single most requested speech.
Larry opens his heart to tell the story of discovering his passion for sailing at the age of 13. Then he jumps right in to the lives of the audience and how important passion is for them, how to find it, and how it can improve the quality of their work and personal lives. By interviewing the hiring client beforehand, Larry is able to weave his tale of passion into the work lives of the audience with great effectiveness using stories and slides from his 6 years of sailing around the world. Humor, emotion, and passion are keys to delivering this keynote and Larry Jacobson has them all.

The 22-Minute Keynote
How much of your audience is still listening after 22 minutes? After giving two TEDx talks, Larry Jacobson is convinced that you should be able to say what you want within that time frame. By doing so, you're guaranteed the audience is still listening and absorbing. By carefully crafting each and every word, not beating around the bush, and making every sentence count, Larry believes he can accomplish the job in 22 minutes. TED talks are limited to 20 minutes, and Larry adds 10% in order to make his points with emphasis. Of course you can ask Larry to give a 30-minute keynote, which he also believes works well for a time frame.
And yes, he speaks for the typical 50-minute keynote as well—and very effectively. However, when planning your event, consider the 22-30 minute option. It works.

NAVIGATING LEADERSHIP: Leadership Lessons Learned at Sea
As a leader in sales and marketing for twenty years, and then captaining his own boat around the world, Larry Jacobson speaks with a unique authority and credibility. As a leader and adventurer, he weaves tales of his six-year odyssey circumnavigating the globe with the challenges of leadership in our fast-paced business world.

NAVIGATING SALES: Achieving Unstoppable Performance
What stops many salespeople isn't lack of skill, education or talent. It's fear. Fear of making that next cold call… or of finally presenting to that big prospect they've been chasing. It can feel like facing a 30-foot wave in a storm — lonely, scary, out of control.
Larry Jacobson knows all about that kind of fear — and what it takes to turn it around and achieve the success of your dreams. After 20 years in the sales and marketing world, he spent six years circumnavigating the globe in a sailboat. As a sales expert and adventurer, Larry draws instructive and entertaining parallels between tales of his odyssey at sea and the challenges of selling in our fast-paced business world.

Living Your UNSTOPPABLE Life!
Very few people achieve the status of circumnavigator. In fact, twice as many people climb Mt. Everest each year. Yet Larry Jacobson decided as a 16-year-old boy that sailing around the world was what he wanted to do — and he never let go.
A California native, circumnavigator and adventurer, Larry Jacobson grew up on the beaches of the Pacific Ocean sailing, kayaking, swimming, and scuba diving. A recognized expert in the corporate sales and marketing world, he was president of one of the premier incentive travel companies. An avid sailor, he has over 50,000 blue water miles to his name. In addition to authoring the award-winning, The Boy Behind the Gate, Larry is a motivational speaker and executive coach.

As a motivational speaker, Jacobson shares how he made his dream come true, and the traits and disciplines needed to achieve great accomplishments in one's own life. In addition to the importance of having a dream, he speaks about facing fears, takings risks, decision making, perseverance, passion, and leadership.
Books

The Boy Behind the Gate