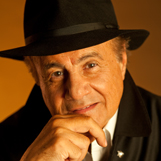 Larry Thompson
Premier Hollywood Producer, Star Maker, Author
Traveling From
California
X
Program Descriptions
Map Your Road To Stardom
The Destiny Train
What Successful People Know That You Don't
Map Your Road To Stardom Workshop
Larry A. Thompson, acclaimed Hollywood film producer, personal manager, lawyer, book packager, author, Broadway Producer, and motivational speaker, is founder and President of the Larry A. Thompson Organization, a next-generation, Los Angeles based Talent Management, Motion Picture, Television, and New Media Production Studio.

Thompson has managed the careers of over 200 Stars and produced 20 Movies for Television, 5 Motion Pictures, 2 Television Series, 9 Television Specials, and various Series Pilots. His movies made for television include the controversial Elizabeth Taylor and Richard Burton telepic, Liz & Dick, starring Lindsay Lohan and Grant Bowler, the highly acclaimed Lifetime Movie, "Amish Grace," the ABC World Premiere And The Beat Goes On: The Sonny and Cher Story, CBS's Lucy and Desi: Before The Laughter, and The Woman He Loved (The historical Royal romance of the Duke and Duchess of Windsor).

Thompson was honored on September 19, 2013, by the Talent Managers Association with the prestigious Heller Award for Lifetime Achievement in Talent Management. This entertainment industry award, named after legendary talent manager Seymour Heller, is given to distinguished individuals for excellence in talent management. It is the highest honor a talent manager can receive for representing talent. Also, Thompson was voted "Showman Of The Year" in 1998 by the U.S. Television Fan Association. He has received the Industry's prestigious Vision Award and his productions have won 2 Accolade Awards, 2 Imagen Awards, The Epiphany Prize, The Wilbur Award, The Christopher Award, and have received Nominations for 10 Emmys, 6 Imagen Awards, 2 Prism Awards, the Humanitas Prize, and a Golden Globe. He serves on the Advisory Boards of The Delta Blues Museum, Paulist Productions, and Good News Communications. He is perennially listed in Who's Who In America and Who's Who In The World.

Thompson and his team of managers have guided the careers of over 200 artists including, among others, William Shatner, Drew Barrymore, David Hasselhoff, Scott Hamilton, Cindy Crawford, Jason Bateman, Shannen Doherty, Mariska Hargitay, Linda Evans, Cicely Tyson, Barry White, Tatum O'Neal, Donna Mills, Linda Blair, Bruce Boxleitner, Justine Bateman, Alan Thicke, Donna Dixon, William Devane, Richard Pryor, Tori Spelling, Robert Blake, Merle Haggard, Iman, Steve Guttenberg, Sally Kellerman, Delta Burke, and Sonny & Cher. Thompson currently manages the careers of William Shatner, Joan Rivers, Melissa Rivers, and Alan Thicke, among others.

As a motivational lecturer and author, Thompson's bestselling self-help book, Shine: A Powerful 4-Step Plan For Becoming A Star In Anything You Do (McGraw Hill – March 1, 2006/Paperback – November 8, 2004/Hardcover) serves as the catalyst for Project Rise and Shine, an organization he founded whereby successful stars, who serve as role models to so many fans, can use their power of celebrity to uplift and motivate others to become stars in their own lives. This living community provides daily personal guidance and original inspiring programming through a dynamic online networking environment, a series of motivational workshops, and personal affirmative stories directly from celebrities themselves.

Thompson, a former co-owner of New World Pictures, is not only a premier Motion Picture and Television producer but also one of the industry's most knowledgeable and experienced financiers and packagers of film and television projects. Thompson's diversified background has made him and the Larry A. Thompson Organization one of the most hallmark names in the show business community.

He started his career in show business as in-house counsel for Capitol Records. He negotiated the famed Beatles breakup and by the 1970s he was a founding partner in the entertainment law firm of Thompson, Shankman, Bond and Moss. For five years he packaged movie and television projects and represented the careers of many prominent actors and performers. He also orchestrated the $300-million-dollar merger between Harrahs and Holiday Inn. When the law partnership was amicably dissolved, Thompson created the LARRY A. THOMPSON ORGANIZATION, a company devoted to film production and personal management of talent.

Thompson, with two other lawyers, Harry Sloan and Larry Kuppin, subsequently purchased New World Pictures from Roger Corman for $16.5 million dollars and immediately took the company public. He sold his New World equity position in 1983 and refocused his attention to independent film production and talent management.

In 2001, Thompson Executive Produced two 1-hour UPN Network Specials titled Iron Chef USA: Showdown In Las Vegas and Iron Chef USA: Holiday Showdown based on the very popular Japanese show Iron Chef.

His highly acclaimed 2003 Lifetime television movie A Date With Darkness: The Trial And Capture Of Andrew Luster was the third highest cable movie of the year and received rave reviews.

His movie Little Girl Lost: The Delimar Vera Story, which aired on Lifetime Movie Network on August 17, 2008, was the highest-rated, two-hour movie in Lifetime Movie Network's 10-year history. In 2009, the movie garnered six Imagen Awards Nominations, and it won two of the awards: one for Best Primetime Television Program and the other for Best Actor/Television – Hector Bustamante.

Thompson Co-Executive Produced, with Joel Gallen of Tenth Planet Productions, the Comedy Central Roast of Joan Rivers. The critically acclaimed special aired on August 9, 2009, on Comedy Central.

Thompson, who has produced multiple bio-pics on iconic figures including Elizabeth Taylor and Richard Burton, Lucy & Desi, Sonny & Cher, and the Duke and Duchess of Windsor, recently produced a 2-hour special production for the Bio Channel on Scott Hamilton titled Scott Hamilton: Return To The Ice. He produced the inspirational program in association with 44 Blue Productions. It premiered to glowing reviews on March 8, 2010.

Thompson's critically-acclaimed mov ie Amish Grace, based on the true story of the 2006 Nickel Mines, Pennsylvania, schoolhouse shooting, had its world premiere on Lifetime Movie Network on Palm Sunday, March 28, 2010. More than 4 million viewers tuned i n to Amish Grace starring Kimberly Williams-Paisley, Tammy Blanchard, and Matt Letscher. The movie broke all Network records, becoming the highest-rated and most-watched original movie in the history of Lifetime Movie Network.

He Executive Produced the Comedy Central Roast of David Hasselhoff, which aired on Comedy Central on August 15, 2010. It was the highest-rated show for the night in ALL of TV among males 18-34.

He is presently producing with Michael Wilson the reality series Celebrity Videos. Also with Michael Wilson, Thompson is shopping to networks a completed sketch comedy series pilot titled The Men's Room.

Thompson also recently Executive Produced a one-woman comedy special with Joan Rivers titled Don't Start With Me. It aired on Showtime on November 15, 2012.

Many additional projects are in various stages of development. Living up to his reputation as the "King of the Biopics," Thompson is presently developing a major Television Event on the life of Oprah Winfrey. For Lifetime, he is developing a 4-hr. mini-series on the rise and fall of the Fashion House of Gucci titled Murder in the House of Gucci, being written by Emmy Award Winner, Nigel Williams ("Elizabeth I").

Thompson, in 2012, produced the high-profile Lifetime Television movie event, "Liz & Dick," starring Lindsay Lohan and Grant Bowler. The movie is about the epic love story between Elizabeth Taylor and Richard Burton. It was shot in Los Angeles. The movie was written by Peabody and Humanitas Award Winner, Christopher Monger, (Temple Grandin), and was directed by Lloyd Kramer (The Five People You Meet In Heaven). It was broadcast on Lifetime Television on November 28, 2012. It drew an audience of 3.5 million people and was nominated for two Emmys in hairstyling and makeup.

As a book packager, Thompson has also developed and packaged with Joan Rivers a series of murder mystery novels titled The Red Carpet Murder Mysteries. The first book in the series, Murder At The Academy Awards®, written by Joan Rivers with Jerrilyn Farmer, was published in hardcover by Pocket Books, a division of Simon & Schuster, on January 27, 2009. The Red Carpet Murder Mysteries is also being developed as a franchise of television movies.

Thompson also developed the book Men Are Stupid And They Like Big Boobs: A Woman's Guide to Beauty Through Plastic Surgery, written by Joan Rivers with Valerie Frankel. It was published in hardcover by Pocket Books on December 30, 2008.

He just recently produced William Shatner's one-man show, Shatner's World…We Just Live in It, on Broadway at The Music Box, a Shubert Organization Theatre, February 16, 2012 – March 4, 2012. The show toured 15 cities in the United States and finished on April 19, 2012. A new U.S. 2012-2013 tour started November 8, 2012 and ran through January 26, 2013. Thompson filmed the show as a television special in Hamilton, Ontario, Canada on December 8, 2012.

Thompson is presently in pre-production on the Motion Picture, "Missing Mona Lisa." The script by Mark J. Hudelson is the romanticized true story of a lovable, grief-stricken, Italian simpleton, who while working in the Louvre, becomes beguiled by the Mona Lisa, and believing in his heart she is homesick for Italy, steals the masterpiece, and smuggles her home with him to Florence. What is a lovable gesture to Vincenzo Peruggia turns out to be the most famous art heist in history!

Thompson, his wife, Kelly, their daughter, Taylor, and son, Trevor, live in Beverly Hills, California.
Books

Shine