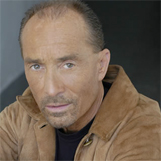 Lee Greenwood
Country Singer, God Bless The USA
X
Program Descriptions
Country music performances
Grammy Award winner and multi-platinum entertainer Lee Greenwood returned to the road in 2001 after a five-year run at his own theater in Sevierville, TN. Greenwood toured extensively to packed houses around the country, and found himself back at the top of the sales charts, and back at radio.

In January of 2002, Lee signed a long-term recording contract with Curb Records. He will begin recording in the spring, with a new album to be released in the summer.

Greenwood's career stands as a shining example of the American success story. From his humble beginnings on a farm near Sacramento, California, Lee has taken his natural talent and achieved worldwide recognition in the entertainment business with a career spanning three decades.

Lee began honing his musical abilities in Jr. High School, learning to play most of the instruments in the orchestra by age 14. Both of his parents were musicians, and Lee followed in their footsteps from an early age. He was quick to acquire the musical and business skills that would prove necessary for his life as an entertainer.

He formed his first band, the Moonbeams, while still in Jr. High School. By the time he had graduated high school. Lee was already a seasoned performer. His career became the focal point in his life, so much so, that he turned down a music scholarship to the College of the Pacific, abandoned a promising professional baseball career, and even skipped his own high school graduation because he was booked to perform a standing engagement at the Golden Hotel & Casino (now Harrah's) in Reno, Nevada.

For the next several years, Lee was faced with a series of near misses. At one point, Felix Cavaliere, a musician from New York City, approached him about forming a new group called the "Young Rascals" but Lee passed on the opportunity to stay in Las Vegas. The Young Rascals went on to record "Good Lovin" which became a major # 1 hit and a string of other hits.

Reaching out for his own recording opportunity, Lee moved to Los Angeles to record his first solo album on Paramount. This attempt was a successful project but was never released. After a two and half year struggle, Lee returned to Vegas to recover lost economy.

Instead of allowing his trials to bring him down, Greenwood found inspiration in coming so close to success. In 1978 he found the courage to leave the security of the Vegas lounges and welcomed the opportunity to fly to Nashville to write and record a demo session with the help of the Mel Tillis Band.

The results of this long-shot opportunity led to his contract with MCA and his producer Jerry Crutchfield, then head of MCA Publishing. Their first session together yielded hit songs like "It Turns Me Inside Out," "Ring On Her Finger, Time On Her Hand." "Ain't No Trick," and introduced this dynamic new recording artist to country music.

Greenwood found immediate acceptance with country music audiences who appreciated his powerful vocals and energetic show. His feel for country music, coupled with his electrifying performances, quickly established him as a major artist. Only two years after the release of his debut album, he won the coveted Country Music Association's Male Vocalist of the Year award. He won the same award again, as well as a Grammy for Best Male Country Vocal Performance the following year. Continuing his streak, Greenwood won the 1984 ACM Male Vocalist of the Year award. His first three albums achieved gold status, and his Greatest Hits quickly went platinum. In 1985, a less publicized facet of his talent was recognized when the CMA awarded him Song of the Year honors for penning both the words and music to "God Bless The USA."

After the Gulf War in 1991, Lee was one of the most in-demand performers. Because of his support for the military and veterans during that time, Lee would often play two and sometimes three shows per day, traveling to and from in private jets.

The staying power of this dynamic performer throughout fifteen successful touring years remains evident in every Lee Greenwood show. Thirty albums, numerous TV appearances, and hundreds of radio interviews are all vehicles through which this tireless performer maintains his visibility with the public. His celebrity tours with the United Services Organization (USO) are one of the many high-profile charity organizations to which this humanitarian donates his time.

In 1995, Lee Greenwood decided to take a break from his rigorous tour schedule to start a family with his wife Kim. Their son Dalton was born in April 1995. In order to spend more time at home, Lee elected to build and perform in his own theater in the Smoky Mountains.

The April 1996 opening of the Lee Greenwood Theater provided the chance to continue performing, but without the rigors of being on the road constantly. The theater was heralded for its state-of-the-art sound and lighting, as well as one of the most entertaining shows around. With the help of dancers, musicians, intricate staging and numerous costume changes, Greenwood captivated audiences with a variety of musical styles, from movie themes to "God Bless The USA."

Lee and Kim's second son Parker Reid came along three years later in July 1998. Although he was not touring with the exception of a few major appearances, Lee focused on his songwriting and being a father and husband.

Since the tragedies of September 11, Lee has seen his signature hit "God Bless The U.S.A." take on yet another life. Since the attack on America, airplay has increased ten fold, skyrocketing "God Bless The U.S.A." back into the top 20 of the Billboard country airplay chart, and sending Lee's 1992 album "American Patriot" to the top of the sales charts. The album was certified gold in October 2001 & platinum in December 2001.

Lee's performances have been as in-demand as his CDs. He has been called upon to perform at numerous events and on national television programs. Recent appearances include The Prayer service at Yankee Stadium, a moving a cappella performance for the rescue workers at Ground Zero, the nationally televised Thanksgiving Day parade in Detroit, Michigan, Game 4 of the 2001 World Series, Regis and Kelly, Entertainment Tonight, Good Morning America, Larry King Live, and many more. He continues to maintain a rigorous touring schedule, including visits to military bases and performances at government functions, including the Veteran's Day ceremony at the Vietnam Veterans Memorial in Washington, D.C.

Lee is now poised to embark on the next phase of his journey as an entertainer. Fueled by his passion for great country music, Lee's deal with Curb Records promises many exciting new things. Lee will be touring the United States and abroad to support the album.
Books