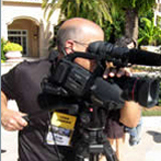 Lights, Camera, Inter Action
Teambuilding - Hollywood Style
Traveling From
California
X
Program Descriptions
LCI's 3 to 4 Hour Half-Day Immersion – Our standard event, this is a half day program which breaks the audience into teams of 12-15 people each that go on to make their own 60-second commercials about your company or key learning objective.

LCI's 60-Minute Interactive Keynote – This program a dynamic, high-energy, one-hour interactive session which breaks down the themes you are exploring as a group into their core components. Equal parts Hollywood Boulevard and Madison Avenue, the LCI Keynote uses Hollywood creativity as a springboard for insights and entertainment, employing techniques used in improvisation (such as Drew Carey's "Whose Line is it Anyway?") and sketch comedy (like "Saturday Night Live" or "In Living Color") to create a commercial or short film specifically for your group. With the help of breakthrough digital technology and LCI's Hollywood professionals (producers whose clients include Fox, CBS, MTV, and National Lampoon and whose works have premiered at film festivals like Sundance, Tribecca, and Cannes), your participants conceive and star in their own commercial that is premiered at the end of the session. They wear the costumes, choose the music, and write the script, guided through the process by their LCI team. Along the way, our team uses the experience to help participants understand the importance of a vision, your core message, and the people that they work with every day. The LCI Keynote uses the filmmaking process as a metaphor for group dynamics, exploring how to create a stronger team that makes more effective choices, and your participants get a taste of Hollywood exploring the creative genius inside of each of them as they Spielberg their vision to the big screen.

The LCI Keynote isn't just a talking head up on stage telling stories from the trenches. It's the sizzle of Hollywood and the thrill of creativity bottled specifically for your group. Our team choreographs a three-ring circus of non-stop entertainment and messaging, spending as much time out in the audience drawing inspiration and laughs from participants as they do on stage. But what they produce onstage with those inspirations is something your participants will long remember. It's the day that they went Hollywood!
Welcome to the most unique, powerful, and engaging corporate training experience in the world today.

Harnessing the power of the imagination, your attendees will develop key skills, from leadership and communication to creativity and discipline. In our customizable half day or keynote programs, your attendees become Directors, Writers, Cinematographers, Set Designers, Prop and Wardrobe Artists and Actors as they make their own 60-second commercials about your company, your brand, your product or any other message of your choosing. Each 15 person team is assigned two professional team facilitators, who come with a long list of Hollywood credits, and provided all the equipment they need to bring your training goals to life. Sure, it's a lot of fun, but the process will challenge your group to think so creatively about your critical initiatives that they will remember them forever and bring the learning back to the workplace, too.

Why should I book a Lights Camera Interaction event?


Target the areas to develop in your team
Deepen brand understanding
Optimize decision making and leadership ability
Generate creative solutions under pressure
Drive greater appreciation for team members and their skill sets