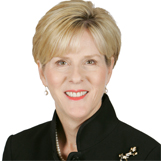 Lisa Ford
Author of the Video Series How to Give Exceptional Customer Service
X
Program Descriptions
Why Customer Service is NOT Enough
This is a presentation on why customer service alone will not lead to long term survival. Today's organization must focus on customer's satisfaction and retention with renewed energy. This speech is a combination of content, examples and motivation. The challenge is to get customers to love your products, services and people. Lisa relates statistics, strategies and stories so the audience leaves with skills and the desire to win and keep customers.

Exceptional Customer Service
This seminar is for front-line employees who do the daily demanding job of serving more sophisticated and educated customers. Here's what people will learn - how to calm down an angry customer, listen to uncover customer's needs, recover from a problem the organization created and win the customer back, handle conflicting needs of customers and keep enthusiasm and an attitude of "customers first" all day.

Create A Service Focused Team
This session will cover the environment you must create to encourage a strong, involved team, your role in modeling the right behavior and the strategies to maintain the right service attitude. Other hands-on information includes how to train a staff that's emotionally equipped to handle front-line intensity, what to discuss at team meetings to keep the momentum, and managing today's generation of team members.

How to Lead a Team
The competition may be able to copy your products or services, but they cannot copy your team. This session will give you the strategies that will set your team apart from the rest. The ideas covered are: how leaders guide success; what the best organizations do; create trust to gain respect; develop operating agreements to ensure accountability; and get the team to make their own decisions.

Customers as Partners: Build Loyalty and Repeat Business
Customer retention must be a key strategy for your business. Keeping customers means increased profits. Lisa will share strategies on how to build partnerships, create complaint handling systems so you can capture customer complaints, build recover skills, and how to use guarantees to add value.

Everyday Excellence
The best way to survive in today's fast moving and changing workplace is to be better and smarter every day. In this session, people will learn to understand and love change, take risks and action to make things happen. Lisa shares questions to identify what value you add and create an action plan to increase your value.

Change Works
This speech will help people understand their fears around change, why resistance exists and how to overcome it. The strategies covered are common sense ones that encourages people to take responsibility to make change work. This presentation will also discuss how to get staff to make needed changes.
Lisa Ford delivers what her audiences want—practical ideas combined with plenty of opportunities to laugh and relate to her examples. Her content inspires people to increase their personal, team and organization's results.

Lisa is the author of How To Give Exceptional Customer Service, the #1 selling business videotape series for the last 3 years in the U.S. She has also authored, Developing A Customer Retention Program, co-authored Building A Customer Driven Organization: The Manager's Role video and audio tapes, and Personal Power audio tapes. She is an expert in the field of customer service, customer retention, managing, hiring and training for service excellence. Other popular topics offered by Lisa are on leadership, team issues, everyday excellence and change.

Lisa's experience includes working with many of the nations' best: SmithKline Beecham, Equitable, Viacom, CSX and Georgia Power. She presents over 90-100 speeches and seminars yearly across the United States, United Kingdom and Australia.

Over the years, Lisa has customized numerous videos for clients to use in their ongoing training efforts. She is highly rated and a favorite speaker at INC. Magazine's Customer Service Conference, where she speaks annually.

In 2002, Lisa was inducted into the National Speakers Association's elite - Speaker Hall Of Fame.

Lisa is known for designing content customized to the audience and the issues they face. Audiences love how the presentation is filled with practical strategies, common sense, memorable stories and combined with enthusiasm and humor.
Books