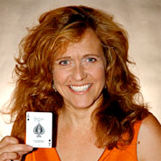 Lisa Menna
Unforgettable Magic Shows Weaved With Business Themes
X
Program Descriptions
Magic performances customized to fit your business themes
Magician Lisa Menna can:


make the CEO vanish
cut the Marketing Director in half
turn the competitor into a chicken

Lisa Menna turns ordinary corporate productions into unforgettable--and transformative--events. Menna's performances magically open up group communications, build team spirit, promote new ideas and products, and create unforgettable experiences.

Instead of trotting out the usual--the tired slide show, the ordinary rewards dinner, the complimentary mouse pads, and the gold watch--why not have renowned Magician Lisa Menna give your audience something they'll write home about?

By weaving in business themes, magic can:
get your message across.
energize your audience.
illustrate complex points (your group will wake up when the expert opens a book and flames leap out).
introduce a new product at meetings (your audience won't forget they saw it floating across the room).
build team spirit (your employees will laugh together when their CEO appears bound up Houdini style--and escapes).

Lisa Menna works magic at:
Banquets
Seminar & Training Sessions
Corporate Meetings
Events
Master of Ceremonies
Tradeshows

Lisa Menna's performance highlights:
performed live in Las Vegas, New York, Caracas, Madrid, London, Bombay, Istanbul, Tokyo, Stockholm, and Helsinki
featured on CNN, Good Morning America, Entertainment Tonight
the first woman to be asked to lecture at the Magician's Olympics
performed to audiences worldwide--in Japanese, Chinese, Spanish, German, French and Turkish
performed with Bill Cosby, Muhammed Ali, Roy Orbison
created live product promotions at major tradeshows Comdex, National Homebuilders, NetWorld/Interop
performed to audiences ranging from 30 to 3,000
voted Best Corporate Magician by the International Conjurers Journal