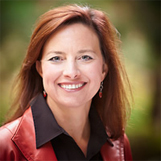 Lisa Nirell
The Business Energizer
Traveling From
District of Columbia
X
Program Descriptions
Four Strategies to Energize Growth and Thrive in the Recovery
Many B2B executives feel anxious, overwhelmed or unprepared for the economic recovery. Lisa Nirell will show you four customer-centric strategies that successful companies such as Zappos, EMC, BMC Software and Seventh Generation are using to help them thrive in today's volatile, time-starved marketplace.

How to Build a Practical Marketing Blueprint in a Time-Starved World
In spite of the "new normal" market conditions—tight credit, attention-deprived clients, and escalating price competition—many B2B companies are winning. What do they have in common? A straight forward, customer-focused system for consistently promoting their brand.

Why Your Marketing Plan May Not Be Ready for the Recovery
Is your organization truly prepared for the coming economic recovery? Are you planning ahead to ensure that you can rapidly seize new market opportunities, handle changes in customer expectations and market more effectively to create market breakthroughs?

The Secret Life of Customer Advisory Boards
Has your company fully leveraged the power of your B2B customers? We didn't think so. Lisa studied dozens of B2B companies to determine the success secrets of well-managed customer advisory boards.
Today, every brand faces fierce competition, high CMO turnover, digital overwhelm, and severe resource shortages.

It's time for leaders to hop off the hamster wheel, think strategically, and make the courageous leap from order taker to innovator. Lisa's here to show you how.

Lisa is the Chief Energy Officer of EnergizeGrowth®. Innovative companies such as Adobe, Gannett, Google, and Hilton hire Lisa to gain fresh insights, formulate new strategies, and launch breakthrough marketing ideas.

Apple evangelist and bestselling author, Guy Kawasaki, says "Lisa will help you truly understand growth strategies."

She is also an award-winning FastCompany, Forbes CMO, and CMO.com contributor.

Her award-winning books include EnergizeGrowth NOW: The Marketing Guide to a Wealthy Company and The Mindful Marketer: How to Stay Present and Profitable in a Data-Driven World.

With over 30 years of pragmatic corporate experience, Lisa brings cutting-edge strategies and fresh ideas to the stage. She works diligently to tailor sessions to your cultural and audience dynamics, and delivers them in a way that your executive audiences can apply immediately.