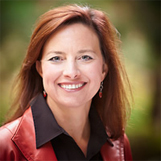 Lisa Nirell
The Business Energizer
Traveling From
District of Columbia
X
Program Descriptions
Four Strategies to Energize Growth and Thrive in the Recovery
Many B2B executives feel anxious, overwhelmed or unprepared for the economic recovery. Lisa Nirell will show you four customer-centric strategies that successful companies such as Zappos, EMC, BMC Software and Seventh Generation are using to help them thrive in today's volatile, time-starved marketplace.

How to Build a Practical Marketing Blueprint in a Time-Starved World
In spite of the "new normal" market conditions—tight credit, attention-deprived clients, and escalating price competition—many B2B companies are winning. What do they have in common? A straight forward, customer-focused system for consistently promoting their brand.

Why Your Marketing Plan May Not Be Ready for the Recovery
Is your organization truly prepared for the coming economic recovery? Are you planning ahead to ensure that you can rapidly seize new market opportunities, handle changes in customer expectations and market more effectively to create market breakthroughs?

The Secret Life of Customer Advisory Boards
Has your company fully leveraged the power of your B2B customers? We didn't think so. Lisa studied dozens of B2B companies to determine the success secrets of well-managed customer advisory boards.
Lisa Nirell is the Chief Energy Officer of EnergizeGrowth®. She helps B2B companies grow customer wallet share, employee mindshare and market share.

It's all about client results. Through her CEO research, 28 years of hands-on, customer-centric business development and strategic planning experience, workshops, and highly interactive learning programs, Lisa helped clients achieve significant milestones, such as:


Securing $83M in new account revenues within just three years.
Aligning global teams across three continents, resulting in a 25% year over year revenue growth and recovery from negative to positive cash flow.
Tripling revenues of an early stage ERP software company through predictable sales planning methods.
Positioning a new management team within a $1B company to generate an additional $50M in services revenues.
Generating $435,000 in new sales pipeline for a consulting firm within four months.

Lisa focuses first on improving her client's business condition and overall performance, not on generating hourly or daily billings. She works to drive value to your bottom line quickly. Her engagements are fixed-fee. There's never a meter running, and she typically returns many times her fees in value to her clients.

Since 1983, Lisa has worked with Sony, BMC Software, Microsoft, Wells Fargo Advisors, IBM, and hundreds of entrepreneurs across nine countries.

She produces winning strategies, not workbooks.

Lisa's clients consider her an accomplished growth expert, thought leader, and speaker with first-hand, laser-focused, practical insights.

Lisa recently authored EnergizeGrowth® NOW: The Marketing Guide to a Wealthy Company. Business luminaries such as Guy Kawasaki, Dr. Stephen Covey, Joie De Vivre Hotel's Chip Conley, Seventh Generation Founder Jeffrey Hollender, and global leadership coach Marshall Goldsmith have endorsed her work. In addition, she is an expert blogger on strategic growth planning for FastCompany Magazine.

Lisa has been featured in U.S. News and World Report, American Express OPEN,The San Diego Transcript, Women in Technology, and Computerworld.

Her most popular hands-on keynotes and workshops include:


Four Strategies to Energize Growth and Thrive in the Recovery
Why Your Marketing Plan May Not Be Ready for the Recovery
Seven Keys to Building a Wealthy Company
How to Build a Practical Marketing Blueprint in a Time-Starved World

She has spoken to groups and organizations in ten countries, including:


Association for Corporate Growth
Hanken School of Economics (Finland)
GenRe
Financial Executives International
Greater Houston Women's Chamber
Oppenheimer Funds
Arizona State University Center for Services Leadership
Commercial Real Estate Women
Renaissance Executive Forums
RainToday
Smeal College of Business Institute for the Study of Business Markets

On a personal note… Lisa has been known to be, well…direct. Her style is not for everyone. She knows you have a lot that you want to accomplish and wants to gracefully yet swiftly get down to business. She won't waste time sharing details about the weather, sports trivia, or world peace efforts. Don't take it personally.

A portion of EnergizeGrowth® revenues support Room To Read, The Deschutes Basin Land Trust, and The Central Oregon Humane Society. Lisa's most energizing activities include open water swimming, yoga, writing, and adventure travel with her husband Magnus. Oh, and working for their three very spoiled cats.
Books

Energize Growth NOW