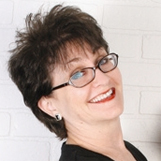 Liz Franklin
Get Organized!
Traveling From
California
X
Program Descriptions
How to Get Bigger Bucks in Your Biz Without Resorting to Robbery
In one hour Liz will show you at least seven ways to move from chaos to cash flow. Liz delivers fast fixes for your business snafus, and creates quick boosts to your income via her marketing, branding, and advertising magic. Her fast and funny methods put you ahead of the competition quickly.

How to Get Organized Without Resorting to Arson
In one hour Liz will entertain you with hilarious insights into your own personality type, why you do the things you do (and your very valid reasons for doing them!), how to talk to people who don't understand you, and how to use the strength of your personality type to get organized and get ahead.
Liz Franklin is an author, speaker and Cubicle Anthropologist who became a rank capitalist hippie at the age of 15, designing and selling her own jewelry and reeking of patchouli oil. Later she moved on to secretarial work, and told her bosses how they could run their businesses better. As a result, many of them invited her to join the ranks of the self-unemployed. That's about the time Liz turned her back on free government cash and started her new career as an Office Organizer.

Once her clients learned to overlook her habits of straightening the family pictures on their walls, picking lint off their jackets and donning pink rubber gloves to sanitize their keyboards, it dawned on them that she was helping them make more money. A lot more money.


One client's personal income jumped from $24K to $176K
Another client's revenues increased by 700% in 8 months
One company's costs dropped 31% in less than 9 months
Another deal brought in an extra $200,000 for a client

In 1979 Liz started the company that became MizLizOnBiz.com, so she could ferret out and solve the underlying causes of disorganization, always using gentle humor to soften the shock of vastly increased income. This is why she carries smelling salts in her huge bag of tricks.

Liz has to give credit to her roots: She is the daughter of a rocket scientist and a Virgo — a curse she has spent years overcoming, and which she now treats by donating all excess bent staples and hooked-together paper clips to a non-profit she's established especially for the organizationally challenged.

Liz has made presentations to, and consulted with, thousands of corporations, professionals, and associations including Avon, Lyon Real Estate, Coldwell Banker, East Bay Municipal Utilities District, 3M, Stanford, Women's Council of Realtors, Allstate, General Motors, and more. She's been interviewed by, or written for, Oprah Radio, the Dr. Laura Show, the Sacramento Business Journal, KGO, MSNBC, USA WEEKEND, Broker/Agent magazine, and more.

Her book, How to Get Organized Without Resorting to Arson, was written to say "Neener-neener" to traditional organizing books that push boring stuff like discipline— which will never work for rebels like us — right?

Because, after all, when you're making money hand over fist, discipline can wait.