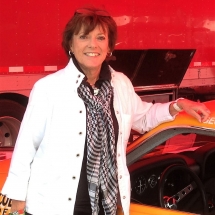 Lyn St. James
American Woman Racing Icon of the Century
X
Program Descriptions
Ride of Your Life
Pursuit of Excellence
Race to the Top
How to Be the Best You Can Be
When Lyn St. James completed her first Indy 500 at the age of 45, she was just the second woman in history to race in the event. Some doubted that a woman could keep up with male drivers, and Lyn struggled to get the sponsorship she needed to race. She took eleventh place, and became the first woman to be selected Indy 500 Rookie of the Year.

Fueled by inspiration and limitless motivation, Lyn St. James managed to rise through the ranks and eventually become known as the American Woman Racing Icon of the Century. She is undoubtedly a testament to the power of determination and positive thinking.

Ly's diverse and successful career encompasses driving race cars all over the world, serving as automotive consumer advisor and spokesperson for Ford Motor Company, National Car Care Council, Continental Teves "Drive Safer America!" Campaign, and Kettering University, being a leader in women's sports as an active past president of the Women's Sports Foundation, and is in demand as a motivational speaker all over the world.

As a business entrepreneur she has owned and operated Autodyne, and automotive wholesale distribution business in south Florida from the early 1980's until 1991, when she sold the business and started the marketing and public relations firm Creative Images, Inc. which she currently operates as LSJ Racing LLC. She also was a founder of Human Performance International which is a world class performance enhancement testing and training center for athletes and other high performance individuals. She was part owner of a consumer electronics manufacturer representatives firm, Dynasales of Florida, from 1970 until 1979. In 1994, she founded the Lyn St. James Foundation as a 501(c) 3 nonprofit, educational organization that focuses on worldwide activities and programs for automotive safety and driver development, especially for aspiring female race car drivers.