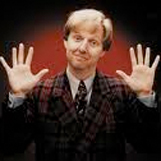 Mac King
Good, Clean, Wholesome, Fabulous, Weird Entertainment
Why book Mac King?


He is a premiere comedy magician who for the past ten years has been regarded as one of the top 5 shows in all of Las Vegas.
He was just named "Magician of the Year" by the Magic Castle in Hollywood.
You've never seen anything like this! Really! Have you ever seen a person's head completely cave in and disappear? Or shaving cream shoot from a guy's ear ten feet into the audience? Not unless you've had the Mac King Experience . These tricks and much more happen when you witness Mac King.

Originally from Louisville, KY, Mac is not only one of the greatest magicians alive today, he's also the funniest--and weirdest! See why he was chosen to be the comedy magician on the NBC TV Special The World's Greatest Magic. Find out for yourself why, after seeing his performances on that special, all the people involved just had to have him on their next big NBC magic show Houdini: Unlocking His Secrets. On the strength of those two performances he was asked by NBC to appear in The World's Greatest Magic II. And then when all the NBC bigwigs were deciding who would be on The World's Greatest Magic III, of course Mac was once again right at the top of their list. After those appearances, it's easy to see why he was such an obvious choice for NBC's next extravaganza The World's Wildest Magic. And hopefully you caught Mac's antics on the recent The World's Greatest Magic IV; he's the only act ever chose by NBC to appear on all four World's Greatest Magic shows. It has something to do, no doubt, with his charming personality and amazing visual style. That's certainly why all the TV comedy shows like An Evening at the Improv and Comic Strip Live have Mac as a regular. And it's probably why Mac performed over 275 shows last year for delighted crowds all over the world.
Books

Tricks With Your Head