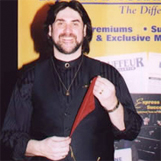 Magic Of Marco
The Ultimate In Magical Entertainment!
Traveling From
New Jersey
X
Program Descriptions
Promotional Magic for Trade Shows!
Strolling Sleight of Hand Magic!
Parlor Shows with a comedic edge!
WHO IS MARCO?

He is a professional close-up magician that has been performing, producing, and practicing the art of magic for over 25 years. Marco is a member of two magic associations, I.B.M. (International Brotherhood of Magicians) and S.A.M. (Society of American Magicians). Marco has performed for these associations and has entered close-up competitions. In 1993 he placed first in these competitions at I.B.M. local 106 THE PYRAMID GARDEN STATE RING. He lives 30 minutes from New York City, 2½ hours from Atlantic City and 2 hours from Philadelphia, but is available to travel anywhere in the USA or Canada.

Marco is an expert at the art of sleight of hand and in general a magical entertainer which makes him very popular with adult audiences.

WHAT HAS MARCO ACCOMPLISHED?

For the past 20 years Marco has been working as a trade show promotional magician and a strolling magical entertainer. Marco performs at over 200 events a year from strolling large catered corporate events and festivals (indoor and outdoor) to backyard parlor shows. Marco has worked trade shows in places such as Las Vegas, Indianapolis, Orlando, Chicago, Atlantic City, and New York City performing promotional magic for corporations at their exibit booths to attract attendees. Marco is an authorized street entertainer at The South Street Seaport in New York City. On May 4, 2001 Marco was chosen to represent the Seaport entertainers and appeared on Good Morning America with weatherman Tony Perkins. It was broadcast live from the Seaport coast to coast.