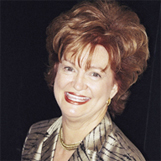 Mamie McCullough
The I Can Lady, Transformational Inspiration
X
Program Descriptions
I Can. You Can Too!
How To Be Up In A Down World
Yes, Together We Can Make It Happen - Team Building
All Stressed Up And Know Where To Go
Customer Service Is A Contact Sport
Mamie McCullough, Ph.D., has been influencing audiences for over twenty-five years. She is living proof that "it's not what happens to you, but what you make out of what happens that counts!" She has overcome poverty and many other adversities, including cancer to become one of the country's most popular motivational speakers.

Businesswoman...

Mamie started her business career as a secretary and became vice president of 13 corporations by the age of 28. Later she became a sales director for a direct sales organization and during one year was among the top 10 in recruiting.

Educator...

As an educator, Mamie has taught every level from eighth grade through college as well as serving as principal of a large Georgia high school. Her proven record helping others has put Mamie McCullough in demand as a keynote speaker, motivational teacher and educational consultant.

Life-Changer...

More than motivational, Mamie's message is transformational and life-changing! The "I Can" lady worked with Zig Ziglar for 10 years as a speaker and author before forming Mamie McCullough & Associates in 1989. She shares life-changing principles instrumental in providing others with ideas, suggestions and facts on how to "get life together".

Mamie uses her background and personal experiences to connect with your audience and develop a presenation that will encourage, inspire and elevate you to believe that "it's not what happens to you — it's what you do with what happens to you that counts."
Books

I Can, You Can Too!