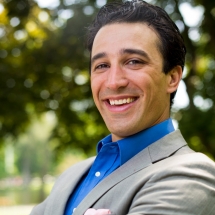 Marc Wayshak
America's Coach on Game Plan Selling
Traveling From
Massachusetts
X
Program Descriptions
Championship Selling in the New Economy: A Program for Sales Teams
Everything has changed for salespeople over the past few years. In today's hyper-connected world, where prospects can easily find information on products and services, salespeople must adapt or face the consequences.

Prospects no longer want or need the old-school approach to selling—that is, a persuasive and enthusiastic pitch for a product. The same goes for prospecting techniques, which must change to fit the way prospects are conducting business today.

How to Double Sales in the New Economy: A Program for Sales Managers & Entrepreneurs
Marc's Sales Strategy Speech Will Help Your Association Members Double Sales

The game of selling has changed completely in recent years—not only for those in the field, but also for those managing and developing organizations.

If management doesn't provide an aggressive, balanced strategy for sales growth, then organizations will fail in today's ultra-competitive economy.

This means that many of those at the top of the corporate ladder will find themselves thrust back into a selling role. From identifying an effective strategy to finding strong sales opportunities, company leaders must cultivate a robust selling environment to increase sales in a meaningful way.

DNA of a Championship Sales Team: A Program for Sales Managers
Give Your Members the Tools to Grow: Bring a Sales Management Speaker to Your Next Meeting!
Developing a championship sales team used to be relatively simple. As long as you kept your salespeople motivated and well-paid, you were good to go. But in today's highly dynamic market, companies must now develop a formal process to create a highly effective sales team.
Why Book Marc Wayshak?
Marc has a story of self perseverance that will motivate anyone to go after their personal or professional goals
Marc's keynotes are loved by business executives, leaders & their teams, and sales personnel.
Marc Wayshak is a sales strategist and the bestselling author of Game Plan Selling and Breaking All Barriers. He created the Game Plan Selling System, a revolutionary sales methodology, based upon his experiences as an All-American athlete, Ivy League graduate, startup entrepreneur and years of research, training and selling. Marc's innovative selling system works for salespeople, entrepreneurs and companies alike. He is a regular online contributor to Fast Company, Reuters, Entrepreneur, The Huffington Post, the Hoover's Bizmology blog and the Salesforce blog. Marc holds an MBA from the University of Oxford and a BA from Harvard University.

While studying for his undergraduate degree at Harvard, Marc suddenly lost all his college savings in a stock market crash. Compelled to have to help pay for college, Marc started a small marketing company. Little did he know, he was about to embark on a journey filled with challenges. He would soon learn just how hard it was to have to sell in order to survive. During that time, Marc made tens of thousands of cold calls per year, spoke to sell, asked for introductions and did everything else necessary to make sales. And at first he did it all the wrong way. But as he went along, he began to learn what worked and what didn't. He also found some powerful mentors who taught him to look at sales from a completely different angle. Studying under these mentors, Marc experimented with the very sales techniques that now make up the Game Plan Selling SystemTM.

By using the right techniques, Marc created exponential growth for his marketing business, turning it into one of the fastest growing event marketing companies in New England. The expanding client list soon included corporations such as Subway Sandwich Shops, ExxonMobil and Getty Oil. As his company grew, Marc served as captain of Harvard's rugby team and was selected as an All-American rugby player. These experiences as a top athlete further shaped his sales philosophy, as he discovered many similarities between closing the sale and winning on the field. After selling his business at just 23 years old, Marc began teaching sales to organizations both large and small.

Today, Marc Wayshak is known as America's Sales Strategist. He shares the powerful strategies and techniques of the Game Plan Selling SystemTM through writing, training and coaching. Marc travels the world helping organizations and entrepreneurs transform their sales.

Drawing from his books Game Plan Selling and Breaking All Barriers, Marc teaches audiences the Game Plan Selling DSP:

Be Distinct…from your competition.
Be Systematic…and follow a game plan for every aspect of selling.
Have a Prospecting Play Book…and live by it.