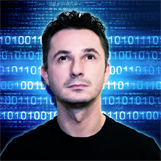 Marco Tempest
Techno-Illusionist
X
Program Descriptions
Marco Tempest: Magic in the Digital Age
There are some performers whose artistry and craft transcend their genre and inspire the imaginations of millions. Marco Tempest – the world's first and only "cyber illusionist" – is once such performer.

In this dynamic, innovative, technologically-sophisticated presentation, Marco Tempest shares his personal creative journey of creating magic in the digital age. Illustrated with some astonishing examples of modern magic, the presentation delves into the question of why, in a technological age, magic still has the capacity to fool us. By peeling back the layers of his process, Marco helps the audience understand how his approach to creativity can be applied to many other fields of endeavor.
Why Book Marco Tempest?


Marco Tempest is a cyber illusionist, combining magic and technology to produce astonishing illusions.
The magic of Marco Tempest is an unprecedented blend of illusion and technology. His talent and innovation are unmatchable; his technical skill and artistic vision, unparalleled.

Corporations worldwide seek Marco's cutting-edge capabilities in which he aligns to each client's unique brand, product or event concept. His work is constantly at the forefront of modernity, utilizing the newest, most advanced forms of technology. Marco's exploration of new media is consistently growing and evolving - his eyes remain on the future and his performances remain one step ahead of his audience.

With an innovative combination of computer-generated video, music, and stagecraft, Marco creates illusions that engage the senses and stir the imagination. Through the ingenious powers of Marco Tempest, the magical and the futuristic converge.