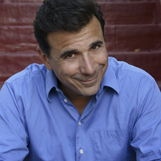 Mark DeCarlo
Comedian, Cartoon Voice, Actor, TV Host
Traveling From
California
X
Program Descriptions
Travel on Your Tongue: How to Travel Like a Celebrity Chef
Tourism planning based around culinary adventures and must-see spots. Experiencing a region can only truly be done through an exploration of the local food trends and traditions. Personality-driven foodies, meeting the people behind the food. Using funny video clips from his Travel Channel series, "Taste of America with Mark DeCarlo," Mark showcases the amazing regional diversity and presents a tale of 2012 America that, according to Amazon.com calls to mind "Steinbeck's Travels with Charley… as a snapshot of our country through the lens of food and the people who passionately prepare it." Mark explores and expands on the endless variety of experience available close to home and concludes the talk with Q&A that hilariously turns audience comments into riffs on America and the culture we all love to hate.

Meetings Don't Have to Be Boring: Create a Corporate Meeting that Feels like a Vacation
Tapping into a venue/host city's attractions, restaurants and sub-cultures to develop team-building excursions, social bonding and contests that transform a drab sales or regional meeting into a fun and educational event that deepens skills and cohesion among co-workers.

Leave Town For Less: Economical Tourism
Through a combination of social media, following your interests and educated travel-sense, design and execute vacations for families, couples, and groups that will spawn memories that last a lifetime… using time and money saving tricks picked up over a decade of professional travel. Whether it's a romantic trip, a family trip or a business trip, Mark's tips can increase your fun and decrease your cost.
Why Book Mark DeCarlo?


He is a food & travel expert who talks about funny people, ridiculous situations and the best food in America.
While known more for his television hosting, Mark is also the host of the top rated travel/foodie talk show on iTunes - A Fork on the Road Show.
Mark DeCarlo is a comedian, host and producer in LA, CA, with a hit Chicago show called "Windy City Live" that recently won him an EMMY® for Outstanding Crafts Achievement for On-Camera Talent – Program Host/Moderator/Contributor.
How about food with a side of funny? Leveraging a comedic career on Los Angeles TV and morning radio and a string of hit television shows (Studs, Big Deal, The X Show) Mark hit the road for the Travel Channel's "Taste of America with Mark DeCarlo."

For four seasons, Mark rode the road less traveled in search of delicious food and the unsung American zealots who champion personal recipes and down-home stories over mass produced mush. It took 400 cities, and a lot of napkins, but through it all, a portrait of America… and its genuinely strange people emerged. These hilarious characters are profiled in Mark's first book, "A Fork in the Road," published by Lyons Press in 2010.

Mark is a comedian, host, producer and actor since becoming the all-time champion on NBC's Sale of the Century, three months after his graduation from UCLA. He is also a cartoon voice actor, best known as the voice of Hugh Neutron (Jimmy's Dad) on Nickelodeon's hit series "Jimmy Neutron, Boy Genius." Mark appears regularly on radio stations across the country – most notably his hometown of Chicago on Steve Cochran's WGN Radio show, talking food, travel, and funny. He hosted the four seasons of the popular TV show "Taste of America" (2005-2008), following a multi-season run on "The X Show," "Sunday Dinner," and the FOX dating show "Studs." As an actor, he's appeared on shows such as "Seinfeld," and "Curb Your Enthusiasm," and in films such as "Mobsters and Mormons" and "Buffy The Vampire Slayer."

His new series, EconomicalECO, is a humorous look at Eco Living… "for the 97 percent of the country that doesn't gobble granola and live in a yurt." Mark continues to travel the country, performing comedy and music and eating the best food he can find. When he's not on the road, Mark and his Cubana amore live in the Hollywood Hills in an energy-efficient eco-house with their puppy Nola and a big screen TV .